Holiday Gift Guide: What to Get the Start-Up Wunderkind
By and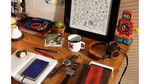 Three Men, Three Cities, Three Styles: Our desks are our hubs. We come from somewhere before we get there each morning and we go places after we leave. We fill them with the little things that we like to have on-hand; or the stuff we're tired of carrying. For this year's gift guide, our editors decided to take a snapshot of three desks, in different corners of the globe -- at exactly the same moment.
At that instant, our man in Tokyo is grabbing his coat before heading home. London has popped out for lunch. And our lad in Brooklyn is getting that all-important second cup of coffee. While they're up, let's take a look at what's on each of their desks for some pre-holiday inspiration. (See also: London, 12:10 p.m. and Tokyo, 9:10 p.m.)
BROOKLYN, 7:10 a.m.
Mr. Brooklyn is a Creative with a capital "C." For him, a PowerPoint is a move he pulled while dancing at the last Daybreaker. Still, he fills his days at the studio, and knows how to dress when the occasion calls for it; his cufflinks might be chicks and magnets (get it?), but he still knows how to put them in his shirt.
Inspiration at Hand

He'll roll his eyes if you start talking about your "mood board," but Mr. Brooklyn likes to keep his desk populated with things that spur him to "ponder." A catalog of all the rocks at the Museum of Natural History and some aerial shots of swimming pools remind him to get outside, the porcelain Ion Lamp adds some needed light while the sun's still on its rise, and the robot nutcracker is, well, a robot nutcracker. A bright blue leather tray keeps the day's necessities at hand (and off the studio floor).
Down to Business

Just because Mr. Brooklyn pulls out his Smythson Blah Blah Blah notebook when you start talking doesn't mean he's not paying attention -- he's just getting ready to put his draftsman-era pencils to use. Some leather-wrapped journals from Miansai provide a home for his more important ponderings. The latches also match his fishhook man-bracelets. It makes you think.
Office Appropriate

Occasionally, Mr. Brooklyn is forced to hop in an Uber for the trek to meeting-centric Midtown Manhattan. Pinstripes are not an option (these are meetings, not a scene from "American Psycho"); chick magnet cufflinks and a suit from Freemans Sporting Club are the right call. A bright braided leather bracelet from Tod's dresses down the rose gold Jaeger-LeCoultre Geophysic 1958 watch, originally built for polar explorers. To have lapels and not tack on a lapel pin or two just seems like a wasted opportunity.
Thinking Time

Open-plan offices demand some artificial solitude. With locally made Grado Labs headphones over his ears, Mr. Brooklyn can tune everything out except that new Jesse Ruins album and get caught up on his morning email. The Best Made mug of coffee (from beans as close to the equator as possible, please) provides a much-needed jumpstart.
Out of Office

Not every day is an at-your-desk kind of day for Mr. Brooklyn (it's good to be the boss). He'll clip keys to a lanyard and roll up a bright notebook or two into the back pocket of his RRL selvedge jeans before heading out to work from a neighborhood bar. The guy next to him will assume, at a glance, he's wearing a Rolex Submariner -- not everyone recognizes the vintage-themed glory of a Tudor Heritage Black Bay on a NATO strap.
Weekend Wear

While everyone else in Prospect Park is tossing around their standard issue footballs, Mr. Brooklyn is preparing for that Thom Browne vs. Tom Ford pick-up game he's been trying to get going (with absolutely no success, we might add) with a croc-embossed black leather stunner. That Panerai, it looks perfect in the park -- and during après Negronis at Bar Corvo. Tackling with full pockets is just asking for trouble, so stop snickering at the Man Things bag, haters.
Before it's here, it's on the Bloomberg Terminal.
LEARN MORE