Holiday Gift Guide: What to Get the Neat-Freak Aesthete
By and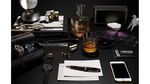 Three Men, Three Cities, Three Styles: Our desks are our hubs. We come from somewhere before we get there each morning and we go places after we leave. We fill them with the little things that we like to have on-hand; or the stuff we're tired of carrying. For this year's gift guide, our editors decided to take a snapshot of three desks, in different corners of the globe -- at exactly the same moment.
At that instant, our man in Tokyo is grabbing his coat before heading home. London has popped out for lunch. And our lad in Brooklyn is getting that all-important second cup of coffee. While they're up, let's take a look at what's on each of their desks for some pre-holiday inspiration. (See also: Brooklyn, 7:10 a.m. and London, 12:10 p.m.)
TOKYO, 9:10 p.m.
Mr. Tokyo likes things just so. His desk can't just be merely monochrome and well-organized -- it has to smell perfect. He keeps a ruler on hand to establish precise balance between objets, and a magnifying glass helps him set his manual watches to the precise second. One time he had a nightmare that was just about iPhone cases. Does he carry cash, you ask? Don't make us laugh.
Finishing Touches

A man like this knows that perfection comes from detail. Titanium and acetate glasses from Denmark's Lindberg look pretty typical from across the room, but they're engineered as precisely as a mechanical watch and shine on closer inspection. And he wants you to get close. Half the people Mr. Tokyo meets won't even notice the Montblanc cufflinks, but it's enough that he knows they're there. Someone once told him he could get style inspiration from "Another Man," but he doesn't need it -- he just keeps the book around to get his lamp at the optimal elevation.

Tools of the Trade

You might not need a single curved piece of ebony to get to your electric bill, but Mr. Tokyo doesn't know how to open a letter any other way. Nor does he know that bills sometimes come in the mail -- he's just receiving thank you notes. He writes his own on Terrapin cardstock and makes sure everything is in place with the Bottega Veneta ruler and magnifying glass. The coasters provide ring-protection, whether it's time for the morning double espresso or an evening cocktail with a colleague. Speaking of ring protection, Mr. Tokyo is single. Dating makes a mess.

Clean Curves

Keeping things clean doesn't mean all right angles; Mr. Tokyo loves his Eclisse lamp, too -- did you know a version of it sits in the MoMA? He'll remind you, in case you forgot. He also thinks Le Labo's solid fragrance holder deserves a spot there, as well as the domed sapphire crystal and nested dials on the Ressence Type 1 watch. For the iPhone 6 he knows it's just a matter of time.

Hints of Gold

Being modern doesn't necessarily mean being monochrome. A Montblanc pen looks best with gold accents to complement those instantly recognizable lines, for example. Piaget's Altiplano 900P is the thinnest mechanical watch in the world, but who's bragging? The red gold case and slate grey dial keep it from inching into "Star Trek" territory. Even the silvery Yoshimoto cube opens up to reveal a warm, gold interior, sort of like Mr. Tokyo himself. (That is, if he ever opened up).

Setting the Mood

Do you smell that? Sitting in front of the sleek Bluetooth speaker (quietly playing The XX, natch) are an origami paper horse and sculptural pebble generously scented with Hermès temps de pluie perfume. It mixes perfectly with the plummy smell of Hibiki 21 wafting out of the Frette decanter for a relaxing end to another long day.

On the Go

He might be Mr. Tokyo, but he's no stranger to settling into an ANA lie-flat seat and waking up in another hemisphere. The Nomos Worldtimer keeps him punctual wherever he may be -- "late" is just another word for anarchy. So is "wallet"; Mr. Tokyo prefers a slim cardholder. If the occasion calls for another timepiece on the road, his watch tube lets him bring his other wrist-bound companions along for the ride. Soft leather gloves are a compact way to pack for cooler climes, and while the David Yurman Swiss Army knife might not be carry-on approved, you never know when a hangnail will rear its ugly, asymmetrical head.

Before it's here, it's on the Bloomberg Terminal.
LEARN MORE