Holiday Gift Guide: What to Get the Club-Going Classicist
By and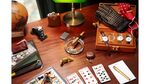 Three Men, Three Cities, Three Styles: Our desks are our hubs. We come from somewhere before we get there each morning and we go places after we leave. We fill them with the little things that we like to have on-hand; or the stuff we're tired of carrying. For this year's gift guide, our editors decided to take a snapshot of three desks, in different corners of the globe -- at exactly the same moment.
At that instant, our man in Tokyo is grabbing his coat before heading home. London has popped out for lunch. And our lad in Brooklyn is getting that all-important second cup of coffee. While they're up, let's take a look at what's on each of their desks for some pre-holiday inspiration. (See also: Brooklyn, 7:10 a.m. and Tokyo, 9:10 p.m.)
LONDON, 12:10 p.m.
Mr. London is a traditionalist. If something's been done the same way for over 200 years, it's probably for a reason. He likes his tie bars gold and his watches even more gold. You may think a pre-lunch cigar and a flask of cask-strength single malt in the middle of the day seems a little Victorian, but did you predict the return of the handlebar mustache?
Pop of Color

A man cannot live on mahogany and leather alone. (Mr. London knows, because he tried for three confusing days in the Nineties.) Occasionally something a bit more adventurous is necessary: Today, it's a red polka dot pocket square from Drakes (made in London) and a pair of blue-lensed foldable Persols (like McQueen wore, you'll recall). His change tray is by Hermès, and his game of solitaire is by Etro.
More Is More

Whoever said less is more clearly never tried to eat just one pistachio. As far as Mr. London is concerned, when it comes to salty snacks and accessories alike, more is always preferable. Why would you want a watch that only tells the time when you could have a perpetual calendar from Montblanc? And why embarrass yourself with a neon Bic lighter when David Yurman makes this lovely silver version? These are the kind of questions you ask when lurking around your crystal ashtray are solid gold foxes with diamond eyeballs.

Around the World

Always being elegant requires always being prepared. Scoping out his next trip on his alabaster-based globe, Mr. London straps on the Omega Trésor, a versatile watch that has a robust modern movement under the hood. "Men in this Town" lets him know who he'll be up against on the streets of any city, and that trusty Coach flask means he'll have a friend with him wherever he goes.
A Place for Everything

Frequent travelers need to be organized, and leather accessories lend a simple dignity to this utilitarian end. The Ghurka watch box can make any Park Hyatt cabinet feel like home -- if you stocked your home bar with strange, half-size liquors and a single bottle of Peroni. Since Mr. London is a fan of the good, old-fashioned business card (the only "outlook" he needs from you is whether you prefer Coleridge or Keats), the Paul Stuart leather card holder is a useful New York souvenir.
Business Time

The pen is brass, the stationery is Terrapin, and the stapler is a work of art. The measuring tape is for emergency tailoring -- and the occasional (cigar) size contest.
Deluxe Details

Speaking of size, it matters -- in the case of accessories. These Belstaff gloves are snug and warm, while the horn cuff links and gold tie bar are small enough to provide subtle accents to a formal look. This year A. Lange & Söhne shrank their 1815 watch by a mere 1.5mm, and Mr. London knew immediately that it was time to pounce. This is a man who keeps a tape measure on his desk, after all.
Before it's here, it's on the Bloomberg Terminal.
LEARN MORE