Get-It-In-Gear Monday as Shopping Ruined: Opening Line
C. Thompson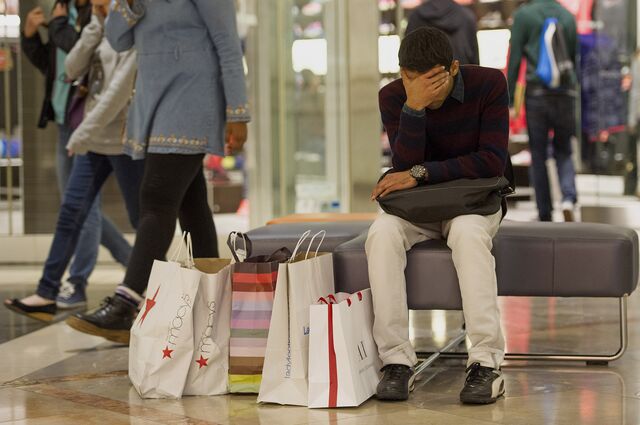 It's Cyber Monday, which means that if you didn't get things kicked off on Brown Thursday, Black Friday, Small-Business Saturday or Insolvency Sunday, you are now expected to Get It In Gear.
Of course, Cyber Monday might be getting a little dated by now, as the folks at Bloomberg TV have noticed. Back when it was created (by someone) in 2005, computers were something you sat in front of, or held in your lap, not something you carried around in your pocket or purse. It was a destination, just like a store used to be. Since we were all going to be at work anyway, trying desperately not to work for at least the first couple hours since the long Thanksgiving weekend, might as well put the time to good use.
But now that you can shop on the train home, not so much urgency.
The retailers, though, would like you to think there is, especially after this past weekend's underwhelming start to the holiday shopping season.
Lauren Coleman-Lochner, ace retail reporter, writes that Black Friday crowds and their spending came in light for the second year in a row (except for guns), which means maybe, like Sasha and Malia and that stupid White House turkey pardoning, we are so over it.
The National Retail Federation said millions stayed away from stores -- 133.7 million were out there, compared with estimates for 140.1 million -- and spending suffered as result, slipping to $50.9 billion during the previous four days from $57.4 billion last year. The way the NRF sees it, it's a good thing. It's a sign that the economy is improved enough to make us less desperate for the the deep discounting.
So if your manager happens to slide past your desk this morning for no apparent reason, just take your phone into the john. Christmas won't be the same without you.
***
The ISM manufacturing report is the day's only significant U.S. economic indicator, coming at 10 a.m. EST.
There are no major U.S. corporate earnings reports scheduled.
Overnight, China said its purchasing-managers' index fell in November, and a short time ago, Markit Economics said German manufacturing unexpectedly shrank last month.
***
- The U.S. Supreme Court hears arguments on proof of intent for convictions related to threats via the Internet or other forms of communication. This is the one where the court had to learn all about rap lyrics. - It's World AIDS Day. - Putin visits Turkey, which happens to take over presidency of the G-20. - Ferguson protesters shut down Interstate 395 in D.C. for 40 minutes yesterday. If you know that road, you know what that means. -UN climate talks begin in Lima at 10 a.m. local, 10 a.m. EST, and continue through Dec. 12. - Airstrikes mount in Raqqa, Syria, the putative capital of Islamic State. - GlaxoSmithKline is said to be on the verge of a reorganization. - Abe set to hit the campaign trail in Japan with a newly minted credit-rating downgrade from Moody's. - Five of the 10 funds with the heaviest customer withdrawals are run by Pimco, FT reports. - American Airlines jet arrives safely from Barcelona at JFK after bomb threat yesterday. - Takata faces a deadline to answer questions from NHTSA on the dangers from their airbags. - Nicolas Sarkozy is back in the game, winning re-election as head of France's UMP party. - Fringe militant group Rohingya Solidarity Organisation has officials uneasy in Myanmar, even if the group is a chimera. - UN's first review of U.S. justice system since 2006 does not mince words. - Security line at Chicago's Midway Airport reported to stretch for a mile yesterday. - Herbalife seeks a federal judge's approval for a $15 million class-action settlement over claims it's a pyramid scheme. - For every dollar spent influencing politics, the most politically active U.S. companies receive $760 from the federal government. - Oregon's so-called first lady was actually first before, for a price. - L.A. couple stuck in Qatar after being cleared in daughter's death - Body of Ohio State football player found in a trash bin, with a gun. - Fishing in Marin County, California? Call ahead. - 'Emotional support' pig kicked off plane for being disruptive. It happened in Connecticut, so don't blame Christie. - Hillary Clinton is a lush and her aides are trying to spirit her into rehab before a run for the White House, the National Enquirer reports.
***
The week we started working for Bloomberg News in September 1998, the price of WTI was a little more than $14 a barrel, which was a good thing because at the time we were driving to the Princeton, New Jersey, area from an address in Philadelphia that, according to Google maps, was 56.2 miles away. For seven years.
Anyway, the Honda's 17-gallon tank could be filled for about $20, which means the price of a gallon of gas was around $1.18. But no, that math is incomplete. So, quick look and...it appears that was just before the end of sub-$1 gallons since.
It's unlikely we'll ever see that price again, but Gregory Viscusi, Tara Patel and Simon Kennedy have people talking about Brent crude at $40 a barrel, and while it would be boon to Americans, for some oil-rich nations (not all of them very lovable), this development in the oil markets could not have come at a worse time.
Iran needs oil at $136 to make ends meet. Venezuela and Nigeria rely on a price of about $120. Russia needs a price of $101, the reporters find, citing data from the IMF.
The further below those prices the price of oil continues to slide, the closer they and we get to all kinds of possible turmoil. Things are already pretty shaky in Venezuela; if the handouts stop or the artificially reduced price of gasoline rises there, look out. Nigeria's trying to pay for the cost of stopping terrorism that is claiming, it seems, 20 to 50 lives a day. Russia is, well, being Russia.
If there's any silver lining we can think of, it's that the money Islamic State is making from its oil operations is dwindling as well. But after reading the potential for global turmoil tied to the price of this commodity, and for the first time, like, ever, we find ourselves wishing we were paying more at the pump.
***
Richard Bradley is an author who was born Richard Blow, but he changed his name, either because it led too easily to puerile jokes or because he wanted to get out from under the weight it carried after his 2002 unauthorized biography of John F. Kennedy Jr.
He wrote the book despite a confidentiality agreement signed as a term of employment while he worked as an editor at JFK Jr.'s short-lived George magazine -- short-lived because, sadly, so was JFK. Jr. -- and despite accusations that he had fired two George writers for the same thing.
At George, he got burned by Stephen Glass, whose work at the New Republic was exposed as fraudulent journalism. Now Bradley is accusing Rolling Stone magazine of the same crime in its story exposing (we'll say "alleged" now) rape culture at the University of Virginia. He doesn't believe it.
At UVA, the entire Greek system is under indictment, even among its staunchest allies, but Bradley writes on his blog Shots in the Dark that his experience with Glass taught him to distrust reporting that feeds into assumptions, which he blames for his failure to challenge the work.
"Remember: One must be most critical about stories that play into existing biases," he writes. He cites the discredited Duke University lacrosse-team gang-rape story and the discredited Tawana Brawley gang-rape story as justification for making skepticism his default position -- and thus an existing bias.
Bradley attempts to discredit Sabrina Rubin Erdely's Rolling Stone story as well, using mostly hunches. He uses words like "seems" and criticizes the reporting for failing to at least try to contact the victim's friends or two of the alleged rapists, whom the victim said she knew.
"If someone in your story is accused of something, you'd better do your damnedest to give them a chance to respond," he writes. "Because if Rubin Erdely knew their names and didn't call them, that is horrible journalism and undermines confidence in her reporting."
Bradley didn't try to contact Rubin Erdely or Rolling Stone, which, he adds, published stories by Glass. "I wanted to assess the Rolling Stone piece based on the material it contained, not what the author could have subsequently added," he said in an e-mail.
Same here.
***
Bloomberg's guru of economic statistics, Alex Tanzi, has a talent for finding indicators in some esoteric places, which is probably why he has the job. Outside of his corner of the Bloomberg universe, he's on a lot of geeky mailing lists and mines them for the little things that glint.
Even a conversation around the Thanksgiving dinner table has economic information, and if we're to take anything from the one he related to us of his holiday experience with cousins, it's that the trickle-down theory of economics is working, at least a little.
There's a father, mother, daughter and son. The dad's a veterinarian who complained business is down because people are putting off elective surgeries and delaying things like heartworm procedures in his town about an hour outside of D.C. in rural Maryland.
The mom owns a dance studio who lost students to a recently departed teacher. Business is slow because parents are cutting back on lessons, but at least the competition shows the entrepreneurial spirt is alive, Tanzi says.
The daughter, 25, was making $60K as a bartender in NYC while trying to become an actress. She moved to Los Angeles and has found work paying the same amount as a personal assistant to a wealthy Hollywood couple. The son, 23, couldn't find a job out of college, went to welding school, didn't like being a welder (What? Welding is fun.) and beat it down to Florida, where he's employed as a full-time handyman for a wealthy woman who recently bought a mansion that needs work.
There's a story for Tom Moroney's "A Day's Work" column in there somewhere.
***
Given the lack of much Judeo-Christian religion in the fabric of Chinese society, and further given that the Communist Party is officially an atheistic body, the party's morality play against adultery over the weekend is a head-scratcher.
Sure, there's right and wrong, and it transcends official doctrine (it is to be hoped), but without the concept of the wages of sin, where does an atheistic society gather its moral underpinnings?
We're speaking of the Communist Party's publication of an "adultery map." It shows where to find (mostly former) party officials who have strayed from their vows. Hubei province, it appears, is hot to trot, followed closely by Shanxi province. There the map shows six and five officials, respectively, outed by the party for philandering.
Beijing comes in third, followed by Guangdong and Hainan, but it's notice of the absence of any mention of two provinces that caught the attention of the Telegraph: Fujian and Henan. It's probably just a coincidence that Xi Jinping was governor of Fujian and that Prime Minister Li Keqiang was governor of Henan.
***
Ridley High School won its annual (more or less) Thanksgiving Day game 9-8 against archrival Interboro High School last week here in Delaware County, Pennsylvania, in what sounded like a taut defensive battle.
We didn't go, but we've been to this game before as a (much younger) scribe covering the Interboro School District for the Delaware County Daily Times. It is everything the traditions of high school football are all about. Combined with the holiday itself and the role of the sport during that holiday, it's not just America, it's Americana.
Enjoy it while it lasts, even if your son can't read the menu at a McDonald's drive-in before too long.
What is reported to be the first class-action, concussion-related lawsuit targeting high school football was filed on Saturday in Illinois, just like Michael Sokolove suggested would happen in his Nov. 9 New York Times magazine story profiling the attorney who brought the first lawsuit against the NFL.
The Associated Press reports the 51-page suit, filed on behalf of a "star quarterback" who played from 1999 to 2003, doesn't seek money. What it seeks is for the Illinois High School Association to tighten the drill on handling head injuries, protocols the complaint finds deficient. Those protocols didn't exist when the lead plaintiff, Daniel Bukal, was a player.
The AP story, citing data from the National Federation of State High School Associations, says about 140,000 of almost 8 million high-school athletes are concussed annually, most football players.
Yet in a case of very convenient timing, we learn today that you don't need concussions to arrive at brain damage, though we use that term in the loosest sense.
Megan Scudellari reports that a single high-school football season of "heavy hits" produced evidence of brain abnormalities even without a concussion. Twenty-four players studied by the Radiological Society of North America were outfitted with accelerometers on their helmets. Nine of them deemed the heaviest hitters showed abnormalities in the structure of nerve fibers, called axons, that transmit information around the brain.
After Sokolove's NYT story, we noted the LeBron James had forbid his kids from playing the sport.
"Football is in danger in Illinois and other states — especially at the high school level — because of how dangerous it is," Bukal's lawyer, Joseph Siprut, told AP. "If football does not change internally, it will die. The talent well will dry up as parents keep kids out of the sport— and that's how a sport dies."
Thanksgiving Day flag-football -- it's not as far-fetched as it sounds.
***
The New York Giants' 25-24 loss to Jacksonville yesterday, what they call snatching defeat from the jaws of victory, is being hailed by many headline writers today as reaching rock bottom. If you're an embittered Giants fan, you might not even trust that outlook. You might be so disgusted that you say, "Oh, no. These bums can do worse."
You want rock bottom, folks, just check out the Philadelphia 76ers. Now that's ignominy.
The Giants got some bad breaks this season, including yesterday's revolving injury door at right tackle, so it's not too much of a surprise that Eli Manning was getting bounced around, but you don't see stunning collapses like that too often regardless.
The 2-9 New York Jets host the 6-5 Miami Dolphins tonight. Maybe the Jets will pull another Steelers game out of their helmets, this time with Geno Smith under center.
Before it's here, it's on the Bloomberg Terminal.
LEARN MORE