German Manufacturing Slump Pulls Euro Area Near Stagnation
Scott Hamilton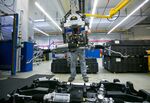 German manufacturing unexpectedly shrank last month in a slump that dragged factories in the euro area to the brink of stagnation.
A Purchasing Managers Index for Germany fell to 49.5 from 51.4, London-based Markit Economics said today. That's below an Nov. 20 estimate of 50, which is the dividing point between expansion and contraction. Manufacturing in France and Italy also shrank and a euro-area gauge was revised to 50.1 from 50.4.
The weakness in the 18-nation region, coupled with the lowest inflation in five years, is pushing the European Central Bank closer to expanding unconventional stimulus to revive price growth and the economy. President Mario Draghi will lead a meeting of policy makers on Dec. 4 after signaling that they're working to get new tools, including full-scale quantitative easing, ready as soon as possible.
"The situation in euro-area manufacturing is worse than previously thought," said Chris Williamson, chief economist at Markit. "Not only is the performance of the sector the worst seen since mid-2013, there is a risk that renewed rot is spreading across the region from the core."
Italian 10-year bonds stayed higher after the report, with yields falling 1 basis point to 2.016 percent, the lowest on record. The Stoxx Europe 600 Index declined 0.8 percent to 344.35 at 10:08 a.m. in Frankfurt.
Engine Stalls
The manufacturing gauge for Italy remained at 49 in November, falling short of the reading of 49.4 forecast by economists in a Bloomberg survey. While the French gauge was revised higher from the initial estimate, the reading of 48.4 still marked a seventh month of contraction.
In Germany, Europe's largest economy, export orders fell for the first time in 16 months, with survey respondents reporting weaker demand from China, the U.S. and other European nations. A Chinese factory index published earlier today fell to 50 in November from 50.4 in October, the lowest since May.
"Germany's export engine has stalled," Williamson said. "New business is also falling in both France and Italy, boding ill for production in coming months."
The Markit reports showed continued strength in Spain, where a factory index jumped to 54.7 from 52.6, reaching the highest in seven years. Ireland's index slipped to 56.2 from 56.6.
Markit said euro-area price pressures "remained on the downside" in November, as output charges and input costs both fell for a third successive month. Data last week showed the euro-region inflation rate fell to 0.3 percent in November to match the lowest since 2009.
Before it's here, it's on the Bloomberg Terminal.
LEARN MORE