Egypt Puts Security First in Sinai as Insurgency Grows
Tamim Elyan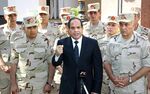 Egypt's military campaign to stamp out Islamists in the Sinai risks backfiring, fueling the anti-government sentiments that underlie the insurgency.
October saw the biggest militant attack in almost four years of violence, as a suicide bomber drove his truck into a remote checkpoint and killed more than 30 soldiers. In response, President Abdel-Fattah El-Sisi vowed to step up the fight, and the army set up a buffer zone on Sinai's border with Gaza -- which involved forcing Egyptians like 65-year-old carpenter Kamel Nasser from their homes.
"We supported the army and our country, and now they forget us this way and leave us in the street," Nasser said by phone. "Do you think that you are serving national security by evacuating the area? The people are the national security."
After ousting an elected Islamist government last year, El-Sisi, a former general, pledged to restore stability. His efforts to do that in Sinai recall the security tactics used by predecessors in a region where living standards lag most of the rest of Egypt. Money for development is scarce as the economy struggles to recover from three years of turmoil. Yet treating the Sinai solely in security terms threatens to fan its discontent, according to David Butter, an associate fellow at the U.K. research center Chatham House.
"Ultimately you would assume that they would need to bring in other elements to this strategy, to give some incentive to the people of the region to line-up behind the Egyptian state," Butter said in a phone interview. "But we don't see a lot of evidence of that kind of approach."
Israel Treaty
Egypt regained full control of Sinai in 1982, three years after signing a peace treaty with Israel. As part of that accord, Egypt has applied policies that have stirred unrest in the peninsula: locals are barred from owning land, joining the police force or army, and holding senior government positions.
Residents say people from other parts of Egypt have been the prime beneficiaries from Sinai's booming tourism. Human rights groups say authorities held hundreds of Sinai residents, many of them without charges, for long periods after a series of bomb attacks targeting tourist resorts between 2004 and 2006.
The exclusion has left a lot of local youths "thinking there is a clear message," said Saeed Eteg, an activist in North Sinai whose house is also under threat. That message is: "they aren't Egyptians."
El-Sisi's enemies in the desert peninsula are seeking to exploit that. Last month Ansar Beit Al-Maqdis, the most active Sinai-based militant group and one which has pledged allegiance to Islamic State, released a 30-minute video. As well as showing the Oct. 24 checkpoint attack and other exploits in bloody detail, the jihadists portrayed the army as acting against the region's people with steps such as the destruction of border houses.
'Your Army'
"This is your army," an unidentified member of the group says in the video. "It is insisting on fighting God and His messenger, and evacuating Muslims from Sinai."
Northern Sinai, which has the fourth-highest poverty rate in Egypt according to official data, has seen the worst of the violence since the overthrow of Islamist President Mohamed Mursi in 2013. There have also been attacks in Cairo and other cities.
The government blames Mursi's Muslim Brotherhood for much of the violence. The group denies the charge, and says it is committed to peaceful protest against the army takeover.
'Public Anger'
As the Sinai conflict escalated in the past year and a half, army operations and regular curfews have disrupted education, commerce and access to emergency medical care, according to local residents.
The evacuation of homes "may allow the extremist groups to become more active, because there will be public anger that these groups will use in their interest," said Eteg, the activist.
The government has promised compensation for displaced homeowners. It has also set aside 2 billion Egyptian pounds ($280 million) for the development of the Suez Canal region, which includes Sinai, on top of budget allocations for infrastructure, health and education, Planning Minister Ashraf El-Araby said in an interview. He didn't specify any projects.
Rafah, where residents were evacuated, is home to the main border crossing with the Gaza Strip, the coastal enclave ruled by the Hamas militant group, an offshoot of Egypt's Brotherhood. Egypt has joined Israel in imposing a blockade on the territory.
'Obvious Tactic'
Another "obvious tactic" used by the militants to bolster support, according to Butter, has been to present El-Sisi's Sinai policy as being a collaboration with Israel. The Ansar militant in the video referred to the president's "Jew masters."
Unlike his Islamist predecessor Mursi, El-Sisi is hostile to Hamas. Letting Sinai become a "hotbed of terrorism and extremism" would hurt Egypt's ability to meet obligations under its treaty with Israel, El-Sisi told a delegation of U.S. investors last month.
Michele Dunne, a senior associate at Carnegie Endowment for International Peace, said El-Sisi's crackdown on militants hasn't been accompanied with an attempt to secure the support of moderate Islamists.
"Under El-Sisi, the political strategy is to silence the opposition," she said. "Most of the Islamists are lumped into same groups and excluded."
Before it's here, it's on the Bloomberg Terminal.
LEARN MORE