Commodities Retreat to Five-Year Low as Oil Tumbles With Copper
Chanyaporn Chanjaroen and Whitney McFerron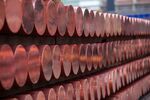 Commodities fell to a five-year low as oil sank on prospects for a glut and data from China confirmed a slowdown in the world's top user of fuels and metals.
The Bloomberg Commodity Index of 22 raw materials lost as much as 1.7 percent to 111.0612, the lowest level since May 2009, and was at 112.2973 at 12:19 p.m. in London. West Texas Intermediate crude fell below $65 a barrel to the lowest since July 2009, while copper, corn and natural gas declined.
Commodities are headed for a fourth year of losses as a slowing Chinese economy limits demand growth just as surging supplies of crude and crops spur gluts. Gold retreated earlier today before rebounding in London after Swiss voters rejected a move to force its central bank to buy more of the precious metal. OPEC last week resisted calls from some members to cut its production target of 30 million barrels a day. A Chinese manufacturing gauge for November fell to match an eight-month low.
"The decision by OPEC not to cut production, and the 'no' to the Swiss gold vote over the weekend has set the tone for a sour beginning to December," Ole Hansen, head of commodities strategy at Saxo Bank A/S in Copenhagen, said by e-mail. "Industrial metals have been caught up in the general selling rout in oil markets, with the additional focus on China."
WTI crude for January delivery fell as much as 3.7 percent to $63.72 a barrel and traded at $65.62 on the New York Mercantile Exchange. The most-active contract slumped 18 percent last month for a fifth consecutive decline after the Organization of Petroleum Exporting Countries refrained from cutting output to ease a global glut.
'Shaking Out'
OPEC's decision is "aimed at shaking out high-cost producers, particularly shale," said Michael McCarthy, a chief strategist at CMC Markets in Sydney. "It's likely that this pressure will remain on prices."
Gold for immediate delivery rose 0.4 percent to $1,172.39 an ounce in London after earlier falling as much as 2.1 percent to $1,142.88, the lowest since Nov. 7. The "Save Our Swiss Gold" measure, put to voters in a referendum yesterday, would have required the central bank to hold at least 20 percent of its assets in bullion, from 8 percent. Had it been approved, it would have led to purchases of at least 1,500 metric tons.
China's central bank cut interest rates last month as the economy heads for its slowest full-year expansion since 1990. To keep 2014 growth at about 7.5 percent, authorities will intensify easing efforts in December, according to Li-Gang Liu, chief economist for Greater China at Australia & New Zealand Banking Group Ltd. in Hong Kong.
Dollar Index
The Bloomberg Dollar Spot Index, which tracks the greenback against 10 peers, traded near the highest since March 2009, making commodities more expensive for holders of other currencies. The gauge rose 8.4 percent this year as the Federal Reserve ended a bond-buying program and signaled that interest rates may rise next year as the world's largest economy improves.
Copper for delivery in three months fell as much as 1.9 percent to $6,230.75 a ton on the London Metal Exchange, the lowest since June 2010, before trading at $6,302.50. Corn slumped as much as 1.5 percent to $3.83 a bushel on the Chicago Board of Trade. Natural gas fell to the lowest in more than two weeks in New York. Zinc, tin and aluminum all declined in London.
"The substantial adjustment to oil prices continues to be a drag on other commodities," said Hou Jun, a Shenzhen-based strategist at Citic Futures Co., a unit of China's biggest listed brokerage. "It's difficult to be optimistic on commodities going into 2015 as policy differentiation continues to support the dollar in a low inflation environment while growth outside the U.S. remains under pressure."
Before it's here, it's on the Bloomberg Terminal.
LEARN MORE