China's Civil Service Loses Luster Amid Graft Crackdown
By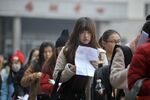 Winning a job in China's civil service, which is more than 7 million strong, has long been much coveted by Chinese youth. Providing a stable position often for life, a decent salary, a good pension, and access to an urban hukou or household registration, it has been touted as the "golden rice bowl" for its cushy benefits.
Looks like it may be time to retire that phrase. For the first time in years, the number of people taking the annual exam that is required to become a public servant has fallen. Yesterday, Nov. 30, 900,000 hopefuls took the test that was held nationwide, down from 1.12 million last year, according to the State Administration of Civil Service. That was despite the fact that this year 22,000 positions were up for grabs, more than the 19,000 offered last year.
What's behind the waning interest? A clear cause appears to be President Xi Jinping's protracted campaign against official graft and extravagance. Previously, many public servant jobs had been known for providing generous perks, including use of government cars, travel with stays in nice hotels, banquet meals, and often opportunities for "gray" or illicit income. That is changing.
Xi has overseen the outing and punishment of thousands of cadres for corrupt or lavish behavior. And he has ordered a reining in of perks, including by limiting government meals to "four dishes, one soup," as the official mantra puts it. Xi has also banned holding government meetings in higher-end hotels as well as at tourist destinations.
Meanwhile, the National Development and Reform Commission, China's top planning agency, and the Ministry of Housing and Urban-Rural Development last week released guidelines on what is an acceptable office for government employees. For even the senior position of minister, office size must not exceed 54 square meters, while those of lower rank are entitled to less space, the 32-page rules say.
"Luxurious decorations and a landmark building style are banned, and office buildings cannot be built on scenic spots. Additionally, buildings' room temperatures cannot be higher than 20 Celsius during the winter," reported the China Daily on Nov. 28. "China has stepped up efforts to crack down on wasteful construction projects and ostentatious office complexes by introducing [these] tighter standards," the paper said.
"In the past, people liked to work as civil servants because they thought they could get a lot of 'invisible welfare' through their posts," said Liu Xutao, a professor at the China National School of Administration, the paper reported today, Dec. 1. But with the ongoing campaigns, "government jobs may lose their attraction to some people, especially to those who intended to achieve additional income and welfare through their posts."
Before it's here, it's on the Bloomberg Terminal.
LEARN MORE