politics
Iowa's Next Claim to Fame
What Republican Joni Ernst's election to the Senate means for the Hawkeye State—and 2016.
By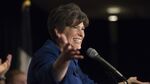 Voters in Iowa, the state that holds the first-in-the-nation presidential caucuses, made history in November when they elected Republican Joni Ernst, who will become the first woman to represent the state in Congress and the first female combat veteran to serve in the Senate.
Her win gives the Hawkeye State another unusual claim to fame, too: it's the only state carried by one party's presidential nominee in the 2012 election that will be represented in January by two senators of the opposite political party. That is to say, Iowa is the only Obama 2012 state that will have two Republican senators in 2015, while no Romney state will have two Democratic senators.
Ersnt's ascension comes at a time when presidential and Senate elections are coming into even greater partisan alignment within the states. It gives Iowa two Republican senators for the first time since 1984, when Democrat Tom Harkin was elected to serve with Republican Chuck Grassley, who is still in the Senate and a strong favorite to win a seventh term in 2016. Ernst will succeed Harkin, who's retiring.
Her win means that Republicans seeking the 2016 presidential nomination will have another endorsement to court, although some Iowa GOP members have expressed skepticism that Ernst will award a candidate her backing in two years. Some possible contenders, such as Senator Marco Rubio, campaigned for Ernst, and you can look for White House hopefuls to offer to help retire her campaign debt or replenish her campaign treasury once the cycle really gets underway, even if Ernst isn't going to be on the ballot again until 2020.
Republican White House hopefuls also will raise money and campaign for incoming freshmen Representatives Rod Blum and David Young, who were elected in districts that voted for Obama in 2012. A parade of Democrats, including former Secretary of State Hillary Clinton, will work to defeat them in hopes that the 2016 political environment is more favorable than 2014. Republican Representative Steve King, a landslide winner in northwestern Iowa earlier this month, is co-hosting a "Freedom Summit" in January that will draw White House candidates to the Des Moines event.
All of the Republican momentum—plus the fact Iowa came within a few thousand votes in one district from electing an all-GOP delegation in 2014—hints at Democratic buyer's remorse. Obama won Iowa by 10 points in 2008 and by 6 points in 2012 in the state that neighbors his home turf of Illinois.
And it was Iowa, after all, where Obama won the state's precinct caucuses over Clinton and John Edwards in 2008, putting him on a path to win the White House.
Before it's here, it's on the Bloomberg Terminal.
LEARN MORE