How Low Can He Go? The Election Math for Abe to Stay in Command
Isabel Reynolds and Maiko Takahashi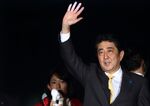 In Japan's election math, the key question for Prime Minister Shinzo Abe is how many seats he can afford to lose without crippling his premiership.
When he dissolved parliament on Nov. 21, and called for elections in the lower house, his ruling coalition held 325 out of 480 seats in the chamber -- more than the two-thirds majority needed to override decisions by the less powerful upper house. The total number of seats has been trimmed to 475 for the Dec. 14 election.
Abe is putting his two-thirds majority on the line as he seeks to extend his mandate and fend off a potential leadership challenge from within his own party. He has called on voters to renew their support for his economic reform plan after Japan sank into recession in the third quarter.
In a poll published Nov. 29 by Kyodo news agency, 28 percent of respondents said they planned to vote for Abe's Liberal Democratic Party. By contrast, 10 percent opted for the main opposition Democratic Party of Japan. The poll also indicated that opposition to Abe's government exceeded support by 47.3 percent to 43.6 percent.
Here's how possible scenarios may play out:
1. Simple Majority of 238
Abe said in a Nov. 18 press conference he would step down if the LDP and junior coalition partner Komeito failed to win a simple majority, implying he would tolerate a loss of more than 80 seats. This level would not give Abe control over parliamentary committees that govern the flow of legislation.
Masamichi Adachi, senior economist at JPMorgan Chase & Co. in Tokyo, said a simple majority was so low a goal as to be "absurd."
It also might not satisfy enough rank-and-file LDP lawmakers for Abe to avoid facing a challenge at a party leadership election next September. Any threat to Abe could undermine the party discipline that has helped him push through his economic and security policies.
2. Absolute Stable Majority of 266
The LDP and Komeito agreed on a target of 270 seats at a meeting on Nov. 19, Kyodo news reported, providing a small safety margin over the "absolute stable majority." This number would give the ruling coalition control of all standing committees, and thus the submission of legislation to the Diet.
LDP lawmaker Seiji Kihara said in an interview on Nov. 21 that an absolute stable majority was needed from the point of view of parliamentary management. Seiichiro Murakami, another ruling party politician, said the same day: "If we don't get an absolute stable majority, there will be a question of responsibility."
3. Super Majority of 317
Abe may need a "super" majority of 317 seats in the lower house to push through legislation next year to bolster the nation's defense stance and enable its military to defend other countries -- a policy opposed by more than half the population.
Such a majority allows the lower chamber to override decisions in the upper house, where the LDP needs its Buddhist-backed partner to make up a simple majority. The LDP has wrangled with Komeito over reinterpreting the country's pacifist constitution.
"If they lose the super-majority it gets more difficult to pass the bills they want to pass," said Mari Miura, professor of political science at Sophia University. "There are many controversial bills coming up, especially the right to collective defense. If they don't control two-thirds, it could be difficult for them to handle the Diet."
4. More than 325 seats
A Nikkei newspaper poll last month showed 35 percent of respondents planned to vote for the LDP in the proportional representation section of the election, up from 25 percent in a similar Nikkei survey a month before the LDP's landslide victory in December 2012.
Given that the 2012 poll was close to the actual proportional representation result of 27.6 percent, this suggests Abe could even win more seats than two years ago, when he capped an unexpected political comeback after resigning a year into his previous premiership in 2007.
Voters going to the polls in Japan get two ballots, on one of which they write the name of a candidate to represent their local constituency. They use the other to choose between parties in the PR section. There are 295 constituency seats and 180 proportional seats up for grabs.
Even so, a larger majority is unlikely, said Steven Reed, professor of politics at Chuo University in Tokyo, with the opposition parties coordinating to offer a unified alternative in many constituencies.
"It's almost impossible to get that kind of result twice in a row, pretty much no matter what," he said. "So it's bound to go down."
5. Low Turnout
A majority of voters don't see the need for an election now. This apathy may push turnout even lower than in 2012, when it was the lowest since World War II at 59 percent. That could help Abe's LDP, which won the 2012 lower house election with a smaller number of votes than when it lost to the DPJ in 2009.
A smaller voter turnout would be positive for the Abe administration, Shinichi Ichikawa, chief market strategist at Credit Suisse in Tokyo, wrote in an e-mailed note on Nov. 28
"It will probably be low," Hiroyuki Hosoda, deputy secretary-general of the LDP, said about voter turnout in an interview last week. "When the wind's against us, the bigger the turnout, the worse it is for us. This time the wind isn't against us, it's pretty neutral and it may not have much effect."
Before it's here, it's on the Bloomberg Terminal.
LEARN MORE