Ferguson Officer Darren Wilson Not Getting Severance Package
Ferguson Mayor James Knowles said that the St. Louis suburb would not pay any further salary or benefits to Wilson, who resigned on Saturday.
By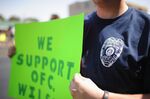 Ferguson, Missouri, Mayor James Knowles announced Sunday that officer Darren Wilson will not receive a severance package as part of his resignation with the police force. 
Knowles said that Wilson, who will not face criminal charges in the shooting death of black teenager Michael Brown, will not receive any further pay or benefits from the police department following his resignation on Saturday, the Associated Press reported. 
Wilson submitted a letter of resignation Saturday night, and had worked as a member of the police force in Ferguson since 2011.
"It was my hope to continue in police work, but the safety of other police officer s and the community are of paramount importance to me. It is my hope that my resignation will allow the community to heal," Wilson said in a letter printed by the St. Louis Post-Dispatch. 
Despite the lack of a benefits package, Wilson stands to become a millionaire, thanks to the efforts of a number of online donation sites that have been raising money for the officer, Bustle reported.