10 Political Books to Buy Immediately This Black Friday
A shopping guide for the discriminating junkie's wish list.
By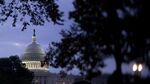 Let's posit that you have a friend or relative who cares about politics. He has a wish list. He already owns What It Takes, Game Change, and The Victory Lab. What else does he need? Any one of these books, or all of them, depending on whether he's fonder of history or snark, policy or campaigns.