D.C. Needs a Firing Range, Fewer Red-Light Cameras, Congressman Says
Steve Stockman and his colleagues aim to leave their mark on the District.
By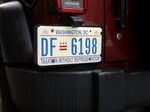 Representative Steve Stockman is on his way out of Congress, but would like to leave behind a District of Columbia that's a bit more like his home state of Texas.
The Republican can't believe that Washington doesn't have a firing range for members of the public. Last week, he sponsored a bill to change that. Stockman also put forward a bill to take down the District's many red-light cameras. That one is co-sponsored by Representative Kerry Bentivolio, a Michigan Republican who is also leaving after this session. (Stockman gave up his House seat for an unsuccessful Senate primary bid, and Bentivolio lost his House primary; both have reputations for eccentricity.)
Congress has a nannying sort of relationship with the District: It can change local laws, and introduce new ones, whether the D.C. Council likes it or not. Washington, D.C., has no senator and only one congressional delegate, Eleanor Holmes Norton, who does not vote. This explains the "Taxation Without Representation" license plates.
Norton blasted Stockman and Bentivolio for trying to "bully" the District. "These two Members, on their way out of Congress, have turned their focus away from their own constituents," Norton said in a statement. "So, free from accountability to their own residents, they are making a last ditch attempt to secure a legacy on the backs of District of Columbia residents."
Stockman's legislation probably won't go anywhere, but the incoming Republican-controlled Senate does have D.C. leaders worried about a more hands-on approach. One local initiative that's sure to catch congressional attention has to do with marijuana. In November, District voters legalized the personal use of up to 2 oz. of pot. But Representative Andy Harris, a Maryland Republican, has already tried to tie up D.C. funding over its legalization measures. Congress will have the final say.