D.C. Needs a Firing Range, Fewer Red-Light Cameras, Congressman Says
Steve Stockman and his colleagues aim to leave their mark on the District.
By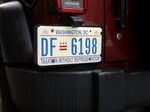 Representative Steve Stockman is on his way out of Congress, but would like to leave behind a District of Columbia that's a bit more like his home state of Texas.