Namibia's Ruling Swapo Set for Sixth Runaway Victory in Election
Felix Njini and Mike Cohen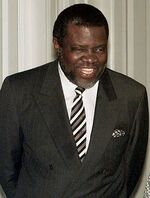 Namibians voted in an election that the ruling South West African People's Organization and its presidential candidate, Hage Geingob, are set to win by a landslide.
About 1.24 million people registered to cast ballots today at the 1,255 fixed and 2,711 mobile-polling stations. Geingob, 69, the outgoing prime minister, is facing eight rivals in the contest to succeed President Hifikepunye Pohamba, who's stepping down after serving a maximum two terms, while Swapo and 15 other parties are contesting 96 National Assembly seats.
"I need to vote for a leader that has potential," Marshall Melasine, a 20-year-old student at the Polytechnic of Namibia who's participating in his first election, said in an interview in Windhoek, the capital. "After voting I am going to analyze the system and see if they are delivering, if not, they are not going to see their second term."
Swapo, which won 75 percent support in the last parliamentary vote five years ago, is still widely credited with winning the southwest African nation's independence in 1990 from South Africa's then white-minority government. Its main challenges include addressing discontent over inequality that ranks among the worst in the world, a lack of housing and disparity in land ownership, Victor Tonchi, a politics professor at the University of Namibia, said by phone from Windhoek.
Electronic voting machines were being used for the first time, which should enable results to be released within 24 hours, according to Notemba Tjipueja, who chairs the Electoral Commission of Namibia. Polling stations were due to close at 9 p.m.
Offshore Diamonds
Namibia is the world's biggest source of offshore diamonds, most of which are mined by Namdeb Diamond Corp., a joint venture between the government and Anglo American Plc unit De Beers, the world's largest diamond company.
The country of 2.2 million people is also the world's fifth-largest uranium producer, with mines operated by Paladin Energy Ltd. and Rio Tinto Group, and has gold and zinc deposits. Its other main industries are agriculture, tourism and fishing.
The ruling party has pledged to implement a development plan aimed at turning Namibia into an industrialized country by 2030 and reducing unemployment to less than 5 percent from 29.6 percent last year. The economy must expand an average of 7 percent annually to implement the plan, according to the central bank. Growth averaged 4.4 percent over the past five years and is set to increase at a similar pace this year and next, International Monetary Fund figures show.
Former Premier
Geingob trained as a teacher and holds a Bachelor of Arts degree from Fordham University and a Master's Degree in International Relations from the New School for Social Research in New York. He served for 12 years as Namibia's first prime minister after independence and was reappointed to the post in 2012, after being trade and industry minister for four years.
The new administration will consider establishing a new ministry that will focus on reducing poverty, Geingob told reporters shortly before casting his vote in a community hall in Windhoek. It will also address the issue of land reform in a systematic manner that respects property rights and the rule of law, he said.
Geingob will probably continue pro-business policies introduced by Pohamba, and the judiciary and central bank are likely to retain their independence, according to Robert Besseling, principal analyst at IHS Country Risk. Deteriorating relations between Swapo and labor unions have raised the risk of more frequent and longer strikes, he said in an e-mailed statement yesterday.
Election organizers faced "some challenges" with voter verification machines, which slowed the voting process, Barney Karuuombe, a commissioner with the electoral commission, said in a phone interview. He blamed the problem on a lack of training staff manning the polling stations.
Polling agents resorted to manual verification of voters at some polling stations in the eastern Omaheke region after verifications machines broke, the Namibia Press Agency reported.
Before it's here, it's on the Bloomberg Terminal.
LEARN MORE