Kim Jong Un's Sister Enters Family Business Running North Korea
Andrew Davis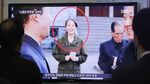 When North Korea's Supreme Leader Kim Jong Un visited the country's cartoon film studio, his sister Kim Yo Jong was on hand as he "gave field guidance" to animators, signaling a growing role in her brother's regime.
Kim Yo Jong yesterday was identified as a deputy director of the Workers' Party of Korea by the official Korean Central News Agency in its report of the visit, the first time she had been cited with an official title.
Believed to be about 27, about four years younger than her brother, she had been shown more frequently in his presence this year in the official media. When Kim was absent from the public eye in September and October, Korea Intellectuals Solidarity, a group of defectors based in South Korea, wrote on its website that Kim Yo Jong was effectively in control.
Kim Jong Un exercises dynastic control over the North's
1.2-million troops and nuclear arms program, and the totalitarian regime's isolation and lack of transparency makes it difficult to understand the inner workings of the so-called hermit kingdom. Kim showed last year that family ties can quickly be broken when he ordered the execution of his uncle Jang Song Thaek, once considered to be his de facto deputy.
"Kim Jong Un was parachuted into a country effectively run by a whole lot of old men in uniforms," said Robert Kelly, associate professor at Pusan National University. "The execution of his uncle, Jang Song Taek, and now bringing forward his sister is a way of pushing back on them and trying to get control. It's what any good mafia don would do."
Kim Jong Un and Kim Yo Jong are full brother and sister as both were born to Ko Yong Hui, the fourth partner of Kim Jong Il, supreme leader from 1994 to 2011. They grew up together in the capital of Pyongyang and both attended the same Swiss boarding school, South Korea's Yonhap News reported yesterday.