Haitong Will Invest in $697 Million Fund Managed by TPG
Cathy Chan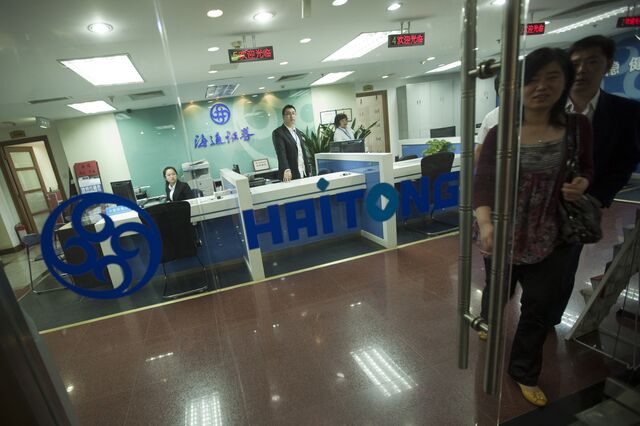 Haitong International Securities Group Ltd. agreed to invest in a HK$5.4 billion ($697 million) fund that will be managed by TPG Capital and owns a minority stake in a Chinese car dealer.
A Haitong unit agreed to spend HK$2.1 billion for a 38.9 percent stake in the fund, which owns part of China Grand Automotive Services Co., according to a Hong Kong exchange filing yesterday. The rest will be held by an investor not connected to the company.
The deal will enable TPG, the U.S. private-equity fund co-founded by billionaire David Bonderman, to exit from a stake of about one-third in the Shanghai-based car dealer, a person with knowledge of the matter said. Selling will help TPG boost returns to about three times the money invested in an Asia fund, the person said, asking not to be identified because the details aren't public.
Siobhan Xiaohui Zheng, a Hong Kong spokeswoman at Brunswick Group representing TPG, declined to comment beyond the announcement.
TPG sought a buyer for the stake after China Grand Automotive scrapped plans for a Hong Kong initial public offering twice since 2010, the person said.
Hedging Deal
Haitong International New Energy II Ltd., the unit investing in the fund, has entered into a hedging arrangement that will end in 2017, the filing by its parent said. Under the deal, Haitong puts up HK$1.48 billion of the purchase price and HK$620 million comes from a Hong Kong company called Huge Group Holdings Ltd. Huge will also make interest payments to Haitong of 9.9 percent a year on HK$1.48 billion.
In 2017, if the value of the 38.9 percent stake is more than HK$2.1 billion, Haitong will be required to pay the excess and also return the initial HK$620 million to Huge, according to the statement. Should the value fall below HK$2.1 billion, Huge will pay as much as HK$1.48 billion to Haitong.
The investment is "low risk" and "high returns," Haitong said, describing China Grand Automotive as well-established. The company is one of the three biggest auto dealership networks in China, TPG said on its website.
China Grand Automotive had planned to seek about $1 billion in an IPO, people with knowledge of the sale said in April 2010. It considered selling a 15 percent stake for about $700 million earlier this year, and had received approval from the Hong Kong stock exchange, people with knowledge of that plan said in June.
China's passenger and commercial vehicle sales will probably reach 23 million units this year, Dong Yang, secretary general of the state-backed China Association of Automobile Manufacturers, said in October. In July, the group projected an increase of 23.83 million units.
Before it's here, it's on the Bloomberg Terminal.
LEARN MORE