China's Web Stimulates Illegal Trade in Endangered Species
By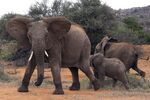 Want to buy a polar bear paw, some elephant ivory, or a sea turtle? How about an Amazon Parrot, a baboon, or even a live cheetah? They are all available online and selling at a "shocking scale," says a new report called "Wanted-Dead or Alive; Exposing Online Wildlife Trade," released on Nov. 25 by the International Fund for Animal Welfare.
"At a time when poaching of endangered wildlife has reached unprecedented levels, the widespread availability of the Internet has transformed some traditional criminal activity to the extent that lawbreaking takes place on an extraordinary scale," writes the Yarmouth Port (Mass.) organization.
The International Fund surveyed 280 online marketplaces in 16 countries over a six-week period early this year. The investigation found 33,006 endangered animals and animal parts for sale in more than 9,000 online advertisements, at an estimated value of more than $10 million, the report says. Slightly more than half—54 percent—were for live animals, with the remainder for animal parts.
The problem is particularly rampant on the Chinese Internet, followed by trade on the Web in Russia, Ukraine, France, Germany, and the U.K., the report notes. China accounted for 56 percent of all the illicit business, with ivory, rhinoceros horn, turtles and tortoises, and exotic birds most popular. Much of it appeared on online social media platforms, including Baidu's Tieba and the fast-growing Internet messaging service Tencent's Wechat, according to the report.
The larger trade in endangered species is estimated to be worth $19 billion annually, and is the No. 4 largest illegal global industry, after drugs, counterfeiting, and human trafficking, the International Fund says. The recent survey is hardly exhaustive when it comes to measuring wildlife cybercrime, the fund cautions.
"It is not possible to measure the scale of illegal online wildlife trade based on IFAW investigations alone. This requires law enforcement agencies to record and publish wildlife cybercrime prosecutions," the fund advises.
Before it's here, it's on the Bloomberg Terminal.
LEARN MORE