Behind the Scenes With Wylie Dufresne at wd-50's Last Thanksgiving
By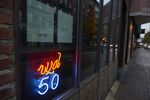 My first dinner at wd-50, almost a decade ago, involved thin slices of pickled beef tongue with fried mayonnaise and sweet tomato molasses -- the mayo cleverly bound with hydrocolloids so it could heat without melting. It was delicious.

It was also a tribute to chef Wylie Dufresne's father and wd-50's co-owner Dewey, who once ran sandwich shops in Providence, Rhode Island. Big time food nerds, the kind with more than a passing interest in the potential of hot gels, might trace a direct line from this bite in Manhattan's Lower East Side to Ferran Adria in Spain.
Dufresne was turning out his own style of modern American cooking -- and his restaurant was a really fun place to go. The service, like the food, was informal and intelligent, witty and warm. The team's best servers had a way of making it seem like they enjoyed what they were doing without saying those hollow words "my pleasure."
You can go to Alder, Dufresne's younger, more casual bar and restaurant nearby in the East Village, and I encourage it. But this Sunday, November 30, will be the last night of service for wd-50, which opened in 2003 and has since drawn serious talent to its kitchen, from Christina Tosi and Alex Stupak to Mario Carbone. Malcolm Livingston -- who, in 2012, made such an exquisite jasmine and chartreuse dessert that I still think about it -- will soon take over the pastry kitchen at Noma.
The restaurant is traditionally closed on Thanksgiving, but last night Dufresne made an exception.
"The team's favorite staff meal is always Thanksgiving, which we normally do on Wednesday," he said over the phone prior to service, "but this year Thanksgiving was just three days from when we close forever." Icon Realty Management is planning to develop the site.

Dufresne, who has been coming out with new techniques and new dishes at wd-50 throughout its life, didn't use the holiday to show off any of his latest tricks. The menu was traditional, though he did plate the savory dishes in stainless steel cafeteria trays, just like a TV dinner, and serve two kinds of pie -- pumpkin and apple -- in individual pie tins. Dufresne's mother-in-law emailed her stuffing recipe earlier in the week and the chef prepared a nearly identical version with chicken stock and celery. "It may have involved a little help from Pepperidge Farm," he said.
To host 130 diners (including a few chefs, like Danny Bowien of Mission Cantina), the kitchen broke down 18 turkeys. "We took the birds off the bone because the best way to cook the breast and leg meat is separately," explained Dufresne, who also ordered an extra 40 pounds of breast meat to put together to-go sandwiches. He wanted to send everyone home with turkey sandwich "leftovers" and a piece of coffee cake.
The chef sold tickets for these last few nights at wd-50 using a system developed by Chicago-based restaurateur Nick Kokonas, of Alinea and Next, which can involve paying a deposit or pre-paying for the meal. Dufresne sold $104,000 worth in just under 10 minutes. Five minutes later, all the tickets were gone, and I cursed myself (and my company's overeager firewall) for missing the window. But I guess a packed house on closing night is like a carrot disguised as a pea, a noodle that doesn't know it's squid, or a cube of super hot mayonnaise. It's just as it should be.
Tejal Rao is the New York food critic for Bloomberg. Follow her on Twitter @tejalrao and Instagram @tejalra or contact her at trao9@bloomberg.net.
Before it's here, it's on the Bloomberg Terminal.
LEARN MORE