U.K. Grocers Fail to Meet Chicken Contamination Targets
Paul Jarvis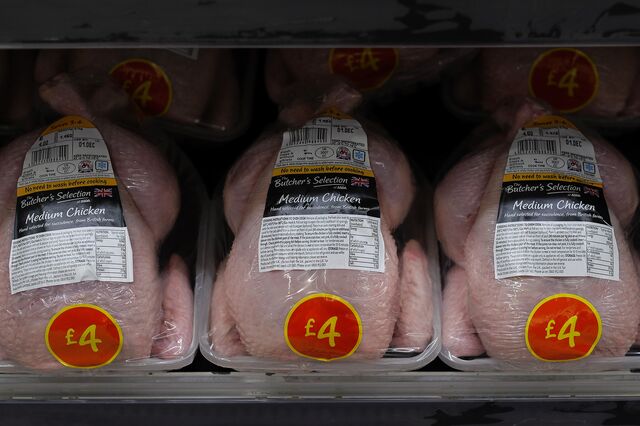 U.K. supermarkets, struggling with deflation and falling sales, received a new blow today as a Food Standards Agency report said no national chain is meeting targets for a potentially fatal bacteria in fresh chickens.
Tests conducted by the watchdog in the six months through August found that more than 70 percent of birds contained campylobacter, which can cause serious or fatal diseases.
Wal-Mart Stores Inc.'s Asda came out worst, with 78 percent of chickens testing positive, the FSA said today on its website. Tesco Plc fared best at 64 percent, it said.
"The results suggest that none of the retailers is achieving the joint industry end-of-production target for reducing campylobacter," the government-backed watchdog said.
The FSA's report comes toward the end of a difficult year for the U.K. supermarket industry as expansion by discounters fuels price deflation. The grocery market is declining for the first time since records began two decades ago, researcher Kantar Worldpanel said last week. Last year, U.K. supermarkets dropped some suppliers and took measures to improve food safety after some products were found to contain horse meat.
The FSA is halfway through 12 months of campylobacter testing. About 18 percent of the 1,995 chickens tested through August contained the highest levels of the bacteria, it said. Asda was the only one of the main supermarkets to have a higher incidence of contamination at the highest level, compared with the industry average, the watchdog said.
Promising Results
Asda is "doing everything we can to reduce the chances of our customers coming into contact with campylobacter," the Leeds, England-based grocer said in an e-mailed statement. That includes trialling a new procedure known as SonoSteam, which the FSA said has shown promising results in tests.
Tesco said in a statement it's committed to the reduction of campylobacter in poultry and is working with suppliers to find ways of keeping birds free of the bacteria.
William Morrison Supermarkets Plc said it plans to provide stronger advice to consumers on packaging of chickens starting Dec. 1, while Marks & Spencer Group Plc said results of its own testing are consistently a third lower than the FSA target.
Campylobacter is considered to be responsible for more than 280,000 cases of food poisoning in the U.K. each year. Effective cooking will kill the bacteria, the FSA said in its report.
Before it's here, it's on the Bloomberg Terminal.
LEARN MORE