Mexico's Pena Nieto Calls for Changes to Boost Rule of Law
Eric Martin and Brendan Case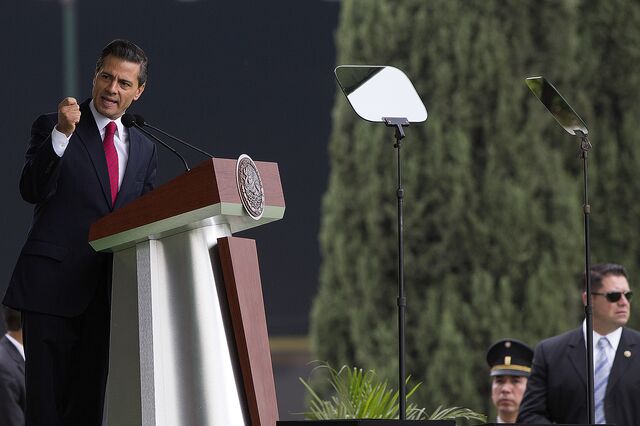 President Enrique Pena Nieto proposed sweeping changes to Mexico's security strategy that include putting local police under state command following the alleged kidnap and murder of 43 college students.
Pena Nieto said he'll send Congress an initiative on Dec. 1 to amend the constitution, turning 1,800 local police forces into 32 state units. He also pledged to boost security and economic opportunity in the nation's south, among the regions most plagued by poverty and organized crime, including the state of Guerrero where the students went missing.
The students' September disappearance from the town of Iguala, less than three hours' drive from the nation's capital, has become a symbol for how drug-related violence has undermined law and order. The case and protests across the nation have shined a light on institutional weaknesses that need to be addressed, Pena Nieto said.
"The tragedy of Iguala combined unacceptable conditions of institutional weakness that we can't ignore," Pena Nieto said in the address at the National Palace in Mexico City. "These acts of violence require the redoubling of efforts to achieve the full rule of law."
Mexico has seen weeks of demonstrations that brought hundreds of thousands onto the streets demanding justice and improved security. More than 70,000 people have died in organized crime-related violence since 2006, according to data compiled by Mexican newspaper Milenio. The Attorney General's Office says another 22,000 have gone missing.
Police Command
"The creation of a unified police command has made progress in some states and not in others and it responds to a very clear problem, which is corruption at the local level," Jorge Chabat, a security analyst at the Center for Research and Teaching in Mexico City, said by telephone. "In theory, making it obligatory will help control local abuses and that couldn't have been achieved a few months ago, before this crisis."
Pena Nieto's security and anti-corruption initiatives may not be enough to mollify protesters who have criticized the government's handling of the Iguala case, said political analyst Lorenzo Meyer.
Even before the students disappeared, the president's approval level had fallen to 47 percent, the lowest since he took office two years ago, from a 57 percent high in May 2013, according to a Consulta Mitofsky poll released Sept. 1. Economic growth has missed analyst expectations in eight of the past 10 quarters.
'Too Little'
"Part of Mexican society is mobilized against him and these measures may be too little, too late," Meyer, an emeritus professor at the Colegio de Mexico university, said in a telephone interview from Mexico City. "I don't think they'll be enough to satisfy people who have participated in the protests."
Police kidnapped the students from Iguala at the orders of the town's then-mayor to stop them from disrupting an event featuring the mayor's wife, and they were then probably killed by criminals with ties to the police and city hall, according to the Attorney General's office. Seventy-nine people, including the mayor, his wife and local police, have been detained in the investigation.
Pena Nieto said he'll appoint a special prosecutor in the case and increase the federal police presence in the "Tierra Caliente" region of Guerrero and Michoacan. The unifying of local police under state control, which requires approval by Congress and a majority of Mexican states, would begin with Guerrero, Michoacan, Tamaulipas and Jalisco, he said.
In the Middle
Mexican authorities have sent degraded remains found near Iguala to a lab in Austria for DNA testing to confirm that they belong to the missing students after gang members confessed to killing the victims handed to them by allies in the police.
As the northern-most nation in Latin America, Mexico sits between Peru and Colombia, the world's top cocaine producers, and the U.S., the largest drug consumer. Local police in many towns report to local elected officials rather than to commanders at the state or national level, giving federal authorities less oversight and opening more room for corruption, bribery and collusion with drug traffickers.
Pena Nieto's predecessor, Felipe Calderon, also proposed putting local police under control of higher-level authorities and faced resistance from mayors reluctant to give up one of their sources of power, said Alejandro Schtulmann, president and head of research at Mexico City-based political risk consulting firm EMPRA.
Rallying Support
Pena Nieto probably will be able to rally his Institutional Revolutionary Party, the largest bloc in Congress, as well as the opposition National Action Party and Democratic Revolution Party, or PRD, to support the initiative. Putting it into place may be harder, Schtulmann said in a telephone interview.
"Mayors around the country saw this as a challenge to their authority" when it was proposed by Calderon, he said. "No mayor would want to be part of a new mechanism where the local police, which have had substantial investment both in terms of money and human resources, are suddenly absorbed by a larger police force," Schtulmann said.
Before it's here, it's on the Bloomberg Terminal.
LEARN MORE