Norway Says Oil Price Shock Won't Trigger Policy Adjustment
Saleha Mohsin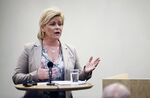 Western Europe's biggest crude producer said it won't adjust spending to match any decline in oil revenue after a decision by OPEC to maintain supply levels triggered a slump in the price of oil.
Norway's government can't redraft its budget because of what may turn out to be a temporary shock to prices, Finance Minister Siv Jensen said yesterday in an e-mailed reply to questions. Instead, she signaled the central bank is better equipped to address such disruptions. The comments come as the krone suffers its biggest pummeling in more than five years as traders speculate lower oil prices will hurt Norway's economy.
"Monetary policy can react quickly when the outlook for the economy changes," Jensen said. "We do not need to tighten expenses if a temporary business cycle pulls tax revenues down."
The Organization of Petroleum Exporting Countries, of which Norway isn't a member, resisted calls to cut supply as oil sinks deeper into a bear market. The group maintained its collective production ceiling of 30 million barrels a day, Ali Al-Naimi, Saudi Arabia's oil minister, said yesterday after OPEC's 12 member-nations met in Vienna.
Brent crude dropped as much as 8.4 percent in London after the meeting was concluded, extending this year's decline to 35 percent, and closed at about $72 a barrel.
Krone Losses
"If oil prices were to remain low long, or fall further, then the decline in demand from oil activities becomes stronger than is assumed in the budget," Jensen said.
The krone plunged to its lowest since March 2009 against the dollar and slumped as much as 1.7 percent to a low of 6.9441 per dollar in Oslo yesterday. It continued its decline today, losing as much as 1.3 percent.
"The weak krone that we currently have will boost inflation, and that should counteract some of the weakness from the overall" impact, said Erik Bruce, senior economist at Nordea Bank AB.
The currency has lost more than 8 percent against the dollar and about 7 percent versus the euro since the beginning of October, when oil prices began to drop.
A weaker krone could "dampen the shocks we are exposed" to, Jensen said.
Before it's here, it's on the Bloomberg Terminal.
LEARN MORE