Net Migration Into Britain Surges 43% in Blow to Cameron
Eddie Buckle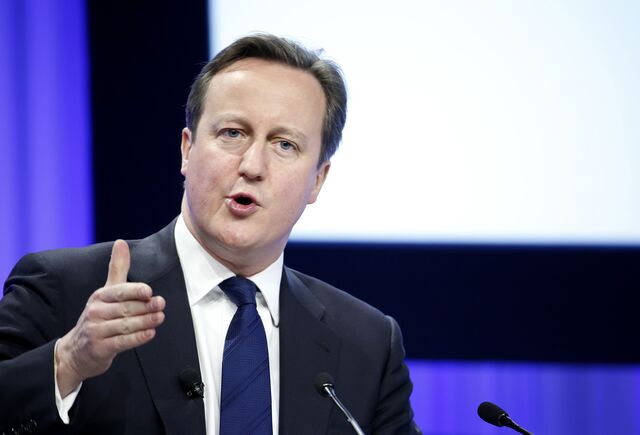 Net migration to the U.K. surged by 43 percent in the 12 months to June, dealing a blow to Prime Minister David Cameron and potentially boosting the anti-immigration U.K. Independence Party.
The number of long-term arrivals exceeded those leaving Britain by 260,000, "a statistically significant increase" from 182,000 a year earlier, the Office for National Statistics in London said in a report released today. A total of 583,000 people arrived to settle in the U.K., up from 502,000 in the previous 12 months.
Cameron's Conservative Party set a target of reducing net annual immigration to "tens of thousands" by the end of his five-year term in 2015. Home Secretary Theresa May said this week the goal is "unlikely" to be met, telling the BBC the U.K. is seeing "increasing numbers of people coming from across Europe –- partly because our economy is doing better than other economies in Europe."
With immigration a key issue among voters in the run-up to the May 7 election, UKIP has gained its first elected members of the House of Commons in the past two months after two Tory lawmakers defected. Cameron's office said he will make a speech tomorrow on proposals aimed at reducing the influx of migrants from the EU as he seeks to renegotiate Britain's membership terms.
'Detrimental Effect'
"In social terms, I would argue very strongly, this has had a detrimental effect on the lives of millions of people in Britain who find themselves actually much worse off than they were 10 years ago," UKIP leader Nigel Farage told BBC television. "Never before in our history have we had open-door immigration like this."
Numbers of immigrants increased from both inside and outside the 28-nation European Union, with Romanians and Poles the two biggest groups of foreigners registering to work over the past year, followed by people from Spain and Italy. The number of arrivals from the EU rose to a record 228,000.
"David Cameron has spectacularly broken the promises he made to the British people; we are not going to make promises we can't keep," opposition Labour Party leader Ed Miliband told the BBC. He said Labour would curb low-skilled migration and make new arrivals to the U.K. wait for two years before they can claim welfare benefits.
"Alongside what the government has already done, it's important to go further," Cameron's spokesman, Jean-Christophe Gray, told reporters in London. "He will continue to say very clearly his ambition is to get net migration back to the tens of thousands. His view on that hasn't changed."
Broken Promise
Cameron laid out his plans to cut immigration in a speech in April 2011, saying he was "confident" his government would achieve its target.
"Net migration to this country will be in the order of tens of thousands each year, not the hundreds of thousands every year that we have seen over the last decade," he said. "With us, our borders will be under control and immigration will be at levels our country can manage. No ifs. No buts. That's a promise we made to the British people. And it's a promise we are keeping."
"This was a Conservative Party preoccupation," Cameron's Liberal Democrat deputy, Nick Clegg, said on his weekly LBC Radio phone-in show today. "They made that promise. I said you'll break the promise. Indeed they have now broken the promise and they'll have to suffer the embarrassment for having done so."
Before it's here, it's on the Bloomberg Terminal.
LEARN MORE