Oil Tumbles Below $70 as Stocks Drop; Bonds, Dollar Rally
Callie Bost and Eric Lam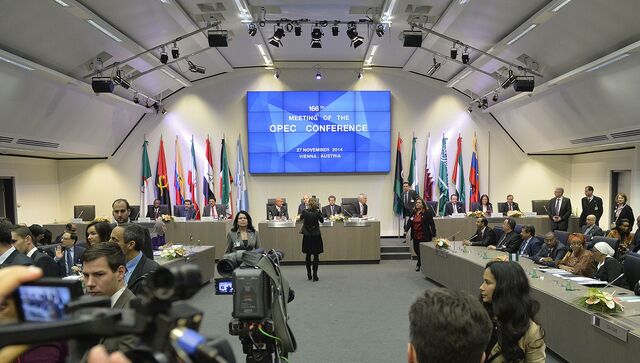 Oil plunged below $70 a barrel for the first time since 2010, leading a selloff in commodities and energy shares. Treasuries advanced and the dollar reached a five-year high, while retailers rose amid Black Friday sales.
West Texas Intermediate tumbled 10 percent to $66.15 for the biggest drop in more than five years. The Bloomberg Dollar Spot Index climbed to a five-year high as of 3:24 p.m. in New York, while gold sank 1.8 percent. Yields on 10-year Treasuries dropped 8 basis points to the lowest in more than five weeks, and Japan's two-year rates turned negative for the first time. The Standard & Poor's 500 Index dropped 0.3 percent and the Russell 2000 Index fell 1.5 percent, as U.S. markets reopened after the Thanksgiving holiday.
The Organization of Petroleum Exporting Countries kept its production ceiling unchanged, underscoring the price war in the crude market and challenge to U.S. shale drillers. The rout in oil is damping inflation, with price growth slowing in Japan and Germany and already negative in Spain. Wal-Mart Stores Inc. and United Parcel Service Inc. jumped as shoppers go to stores and online for the Black Friday weekend.
"OPEC's decision yesterday came as a surprise when looking at the market reaction and made investors more cautious," said Tobias Britsch who helps oversee about $30 billion at Meriten Investment Management GmbH, in Dusseldorf, Germany. "This could hurt a year-end rally. I would not touch oil and gas stocks as it's far too risky now."
Oil Slump
Brent slipped 3.3 percent and West Texas Intermediate crude oil dropped 10 percent from its Nov. 26 close. The moves sent the Bloomberg Commodity Index down 3.9 percent, its biggest drop since September 2011. WTI has lost 33 percent this year, while Brent has plunged 37 percent. Both grades capped the biggest monthly drops since 2008.
The repercussions were felt through asset classes. Oil and gas producers in the MSCI All-Country World Index dropped for a fifth day, the longest streak in more than a month. That sent the gauge down 0.4 percent today, trimming its monthly gain to 1.5 percent. The MSCI Emerging Markets Index slid 1 percent, extending its November decline to 1.3 percent.
In the U.S., where markets were closed yesterday for the Thanksgiving holiday, retailers rallied and energy companies slid. The S&P 500 has added 11 percent since a low in October and capped a 2.5 percent monthly gain today. U.S. equity markets shut at 1 p.m. New York time today.
Wal-Mart surged 3 percent, the most in the Dow Jones Industrial Average, and J.C. Penney Co. climbed 3.4 percent. UPS gained 2.8 percent and Amazon.com Inc. added 1.5 percent. The National Retail Federation projected a 4.1 percent gain in retail sales in November and December, the biggest increase since 2011.
The Nasdaq 100 Index increased 0.5 percent.
Retail Sales
"Retail sales and Internet retail sales show yesterday was a good day," Dan Heckman, Kansas City, Missouri-based national investment consultant at U.S. Bank Wealth Management, said by phone. His firm oversees about $120 billion. "With the drop in oil we think this will be a tremendous holiday season. Investors are going to watch which sectors will be impacted by the decline in oil."
Exxon Mobil Corp. and Chevron Corp., the energy companies with the biggest weightings on the S&P 500, dropped more than 4.2 percent. Credit-default swaps on Shell, Europe's biggest oil company, were the worst performing in the Markit iTraxx Europe Index this month, followed by increases in Eni SpA, Statoil ASA and Total.
Airlines rallied, with Air France-KLM Group and Deutsche Lufthansa AG up more than 4.9 percent. American Airlines Group Inc. added 7.9 percent, and Delta Air Lines Inc. gained 5.5 percent.
Europe Stocks
Europe's Stoxx 600 fell for the first time in six days, sliding from a two-month high. That trimmed this month's advance to 3.1 percent, still the biggest since February. Germany's DAX Index added 0.1 percent for a 12th straight gain, approaching its July record.
Government securities advanced as tumbling oil prices cooled the outlook for inflation, preserving the value of fixed payments on bonds. Ten-year U.S. Treasuries, which didn't trade yesterday, climbed for a sixth day, pushing yields down 8 basis points to 2.17 percent, the lowest level in more than a month.
Treasuries stopped trading at 2 p.m. New York time, according to a recommendation from the Securities Industry and Financial Markets Association.
The rate on Japan's two-year notes slid to as low as minus 0.005 percent, according to Japan Bond Trading Co. In Europe, Austrian, Belgian, Dutch, Finnish, French, Irish, Spanish, Italian and Portuguese yields all dropped to records with those in Germany. Australian and British 10-year yields declined to 18-month lows.
The Bloomberg Dollar Spot Index, which tracks the U.S. currency against 10 major peers, rose 0.6 percent to its highest level on a closing basis since March 2009.
Commodity Currencies
Currencies of commodity-producing nations were among the biggest losers against the dollar. Norway's krone extended yesterday's 1.5 percent slump, dropping 1.5 percent to the weakest level since March 2009. Norway is the biggest oil producer in Western Europe.
Canada's currency, known as the loonie, weakened 0.8 percent after sinking 0.8 percent yesterday. Australia's dollar was down 0.4 percent to 85.07 U.S. cents.
Metals declined as lower oil prices added to concerns over deflation. Gold sank 1.8 percent to $1,175.50 an ounce, and silver dropped 6.3 percent to $15.56 an ounce. Copper slid 3.7 percent to a four-year low as a strike at Peru's Antamina mine, the world's sixth-largest, was set to end. Prices fell 6 percent this week.
The ruble weakened to a record low, down 3.5 percent to 50.40 per dollar. It extended this month's slide to 15 percent, the most among 31 major peers. Russia's currency has depreciated 35 percent this year as sanctions over Ukraine and the slump in oil price exacerbate an economic slowdown, leaving the country on the brink of recession.
In China, the Shanghai Composite Index capped its biggest weekly advance in four years, with today's 2 percent gain leaving it 7.9 percent higher over five days. Stocks rallied amid speculation the central bank may continue to loosen monetary policy after cutting rates a week ago. The Hang Seng China Enterprises Index of mainland companies listed in Hong Kong added 1.2 percent today.
Before it's here, it's on the Bloomberg Terminal.
LEARN MORE