Brits Beat Europeans to Lead Pack on Christmas Spending
Tom Beardsworth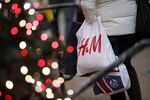 The British will be the biggest spenders in Europe on Christmas gifts this year, according to a study commissioned by Dutch bank ING Groep NV.
Brits will spend an average of 350 pounds ($553) each on presents, according to the study of almost 12,000 consumers conducted by Ipsos, the bank said in a statement today. Romanians are the most generous, measured in spending as a proportion of average monthly income, devoting a third of their paychecks to offer 110 euros' ($138) worth of gifts.
Those two countries also had the greatest proportion of respondents saying they ended last Christmas season piling up debt. This year, almost half of Brits and Romanians have already been saving in the run-up to the holiday.
"Perhaps learning from debts of previous years, it's encouraging to see this year a significant proportion of consumers have put money aside," Ian Bright, an economist at ING, said in the statement. "The fact that almost half of people don't know what they will spend is a significant point."
The French and Luxembourgers tied for second place with plans to shell out 300 euros ($375) in ING's study. The Dutch ranked last, at 25 euros. ING said that's probably because the Sinterklaas holiday celebrated in the Netherlands on Dec. 6 takes precedence over Christmas.
Before it's here, it's on the Bloomberg Terminal.
LEARN MORE