Exactly 2 New Yorkers Voted for Taylor Swift for Governor
That's one more than the Pope, Francis Underwood, and Derek Jeter.
By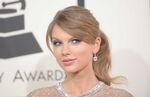 One New York City voter wanted Pope Francis to be governor instead of Democratic incumbent Andrew Cuomo. Two wanted Taylor Swift, though one added Kaci Hickox of Ebola-quarantine fame to the ticket for good measure (that vote was cast in Brooklyn, of course). Some wanted Anthony Weiner or were wistful for Andrew's dad, Mario, who was New York's governor for 12 years.
These are among the celebrities who received write-in votes in the November 4 governor's election, according to an official tally released this week by the city board of elections. It's a long list to compile in the nation's most populous city, where more than a million people voted. Those casting write-in votes probably just wanted to engage in a little mischief or wanted to register their disenchantment with the majority-party choices of Cuomo and Republican Rob Astorino.
Others receiving write-in votes:
—Derek Jeter, who just ended a storied career as the New York Yankee shortstop
—Indianapolis Colts quarterback Andrew Luck, who passed for 354 yards and four touchdowns against the New York Giants the day before the election
—Eleanor and Franklin Roosevelt (FDR was governor from 1929 to 1932)
—Francis Underwood (the ruthless politician played by Kevin Spacey in "House of Cards.")
Oh, and among actual candidates on the ballot: Andrew Cuomo carried New York City by 77 percent to 17 percent over Republican Rob Astorino, en route to winning a second term.