The Swift Political Decline of Missouri's Jay Nixon
The governor of Missouri used to be a rising national figure. Used to be.
By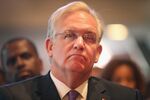 Go on, try to find a headline that looks more out of place than "Jay Nixon Won't Rule Out 2016 Run." It was just nine months ago that Politico, hosting the Missouri governor at a newsmaker event, asked him if he had national ambitions. He had taken on the state's Republican legislature in a long-running fight over tax cuts. He'd taken more national media phone calls. He'd ruled out a Senate run in 2016 against Republican Roy Blunt, but the chatter in Missouri was that a popular governor would be the ideal candidate against a senator elected in the 2010 Tea Party wave.