The Swift Political Decline of Missouri's Jay Nixon
The governor of Missouri used to be a rising national figure. Used to be.
By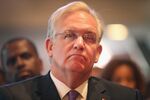 Go on, try to find a headline that looks more out of place than "Jay Nixon Won't Rule Out 2016 Run." It was just nine months ago that Politico, hosting the Missouri governor at a newsmaker event, asked him if he had national ambitions. He had taken on the state's Republican legislature in a long-running fight over tax cuts. He'd taken more national media phone calls. He'd ruled out a Senate run in 2016 against Republican Roy Blunt, but the chatter in Missouri was that a popular governor would be the ideal candidate against a senator elected in the 2010 Tea Party wave.
Then came Ferguson. The political fate of Missouri's governor is not really on the minds of people watching the aftermath of Mike Brown's killing. By the time more people pay attention, the pundits will have written Nixon off. "I've never seen any political collapse of any proportion like this," says Missouri Republican strategist Jeff Roe.
Nixon's problems have started to resemble the ones that ruined Louisiana's Kay Blanco in the aftermath of Hurricane Katrina—self-inflicted but aggravated by his enemies. In Missouri, Nixon's initial response to August's Ferguson protests was seen as a little slow, but survivable. Not so the response to the grand jury's Monday decision. 
"Explain why you gave the order that I supported a week ago to mobilize the guard, to declare a state of emergency, and then at the critical moment you're nowhere to be found by the mayor of Ferguson," said Missouri Lt. Gov. Peter Kinder in an interview with Breitbart News. "This mayor made this desperate call as he was watching from his back porch as his city burned."
Before Ferguson, Kinder was in no position to challenge Nixon. He'd won re-election in 2012 with just 48.8 percent of the vote, running far behind the Romney-Ryan ticket. He'd endured a petty scandal over his billing of hotel stays to the state. Yet here he was, laying the wood into the governor in national media. So was former Ferguson mayor Brian Fletcher.
"Governor Jay Nixon should resign in disgrace." he told a radio host. "Jay Nixon has failed us miserably."
Ferguson's current Mayor, James Knowles, has agreed more with Kinder and other critics than with Nixon. At a Tuesday press conference, Nixon found himself denying the charge that he'd ignored the city's leadership and pulled back the National Guard. "Politics has not one bit to do with the tasks at hand and the responsibilities at hand and the seriousness of this mission," he insisted.
But politics has consequences. Nixon saw his Democrats sustain historic new losses in November's elections; the new, veto-proof Republican majority is planning to bring back some of the bills he'd scuttled when he was building a national profile.