The Maserati Quattroporte Q4 S Is a Flagship That's Falling Behind: Review
by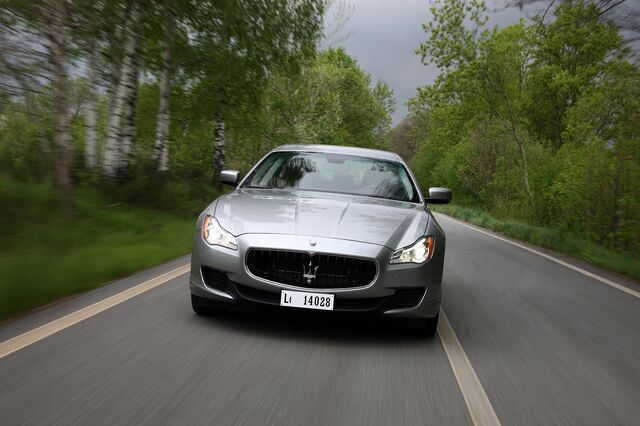 Maserati is on to something.
In recent months it has produced the handsome and affordable Ghibli sedan. It has unveiled the alluring Alfieri coupe concept. And it has further developed the curvaceous Levante SUV that will debut in 2016.
Several luxury brands of late are brilliantly readying themselves for dramatic product and image improvements in the next few years. These are automakers fallen from superstar status decades ago but that are primed for a comeback. Maserati is one of them, flanked by Cadillac and Jaguar.
Cadillac and Jaguar I'll leave for another column. They've loaded their forthcoming production lines with interesting offerings and stacked their executive teams with smart and dynamic leaders. I've already written about how Maserati has acknowledged its need to attract more women buyers and how the Ghibli is a step in the right direction. So this is as good a time as any to address the Maserati Quattroporte Q4 S, its $107,000 AWD sedan.
Ghibli recently overtook the flagship Quattroporte in U.S. sales this year, an expected and telling sign about the healthy future of the company. That mid-sized sports sedan is the most exciting and most significant part of CEO Sergio Marchionne's goal to sell 50,000 Maseratis worldwide by 2015.
But Quattroporte is a touchstone for the marque, both as a measure of where it has been and where it is going. It's spacious and sinister-looking and capable in inclement weather, too, worth considering if you want something with more attitude than, say, a Lexus. Just make sure your guy cuts you a sweet deal. Otherwise choose the smaller Ghibli – or something from Audi/BMW/Mercedes -- instead.
Different From The Norm
I drove a Quattroporte Q4 S all over New York City and its outer boroughs last weekend. The car comes with a 410-horsepower V6 engine with 550 NM of torque and 15 mpg city/25 mpg highway efficiency ratings. It'll hit 60mph in just under 5 seconds. Top speed is 176mph.
Suffice it to say this is not the fastest car of its general size and price on the market. That distinction belongs to things like Audi's slightly more expensive ($114,000) but whip-quick S8, a 520hp V8 sedan that goes 0-60mph in 3.9 seconds.
The Quattroporte Q4 S is also not the tightest handling and supremely engineered of the lot. BMW's $91,000 750Li V8 (445hp and 0-60mph in 4.8 seconds) deserves that award.
Nor is it the most plush – for that look to something from Mercedes. Try the $94,000 S550 with its 449hp V8 engine and 0-60mph time of 4.8 seconds. That car is so fine-tuned, so padded and swaddled, that you won't feel -- or hear -- a thing on the way to 60.
But the Maserati Quattroporte Q4 S does have a certain style. Driving it makes you feel, if not suave like in the Audi, at least little nasty. It doesn't have real swagger like an Aston Martin, but it has a bit of an ego and the personality to match. I just wish the engine had more of a growl to back that up.
Personality In Pinstripes
I have never been a fan of the modern Maserati look – the shark gills on the sides, the huge toothy grill grin, the wide stance that apparently feels the need to visually clear its throat to everyone on the road. They remind me of a mobster wearing a pinstripe suit over a black shirt and black tie -- not chic like the Audi RS7 fastback or tailored look like the BMW M4. They just aren't my style.
Of course, they are exactly the reason why some people adore – adore! – Maserati.
"Our buyers are extremely passionate," Peter Grady, president and CEO of Maserati North America, told me last week in Los Angles. He said the level of engagement is extremely high for current owners, and that the rate of closing a sale once someone comes in to the dealership is higher than 80%.
The trouble is getting fresh faces inside the dealership in the first place, and I'm not sure Quattroporte is the car to do it. (Though I will say at least it has a personality. It looks more interesting at least than the rather dull big sedans from Lexus and Mercedes.) At this point the Ghibli is the main draw, and I – along with I'll wager many younger and wealthy buyers – much prefer its more streamlined, classic and fresh lines.
That said, the new day-running LED headlights and wraparound LED rear lights, twin oval tailpipes and standard 19" rims work well together to present a uniform look on the car. The red brake calipers on the spec car I received (it cost $113,300 with all of the options it had) looked sporty. And I do love the royal connotations and old-school charm of that famous Maserati trident evident throughout the wheels, sills, leathers and hood of the car.
Big Bunker Backseat
Inside, the Quattroporte says one thing: I'm big. The dashboard is basically three horizontal bands swathed in leather and set with a wide center console. The broad doors are finished in standard fine grain wood trim (glossy or carbon-fiber finishes are available). The ergonomic seats and spacious headroom will easily fit a 6-foot-plus, wide-shouldered man sitting for hours inside; the controls are clean, uncluttered and easy to use.
The 8.4'' touch-screen in particular is perhaps the most intuitive and responsive one in its class. It controls the front seat heaters, climate, radio (XM Satellite optional), navigation and drive modes. Rear power shades ($600), rear heated seats ($540) and the two rear captions chairs (as opposed to the typical bench seat) seem justifiable. The $3,350 additional cost to get the rear fold-out tables seems a bit much.
The back seat feels like a hollowed-out bunker. Massive. You might as well bring a change of clothes and a deck of cards for this thing. It's not especially plush but it has decently appointed leather and wood, like a higher-end chain hotel room or the cabin on a private jet. It's a good choice if you want something a little lean when it comes to comfort but big enough through throw a body around in. If you are in to that sort of thing.
Driving The Winter Warrior
Driving the Maserati Quattroporte is not especially memorable or thrilling. But I have a feeling most of the people who buy a Quattroporte don't buy it for its performance prowess anyway.
It does feel capable, if heavy, around corners (which is too bad because it's already 400 pounds lighter than those Audi and BMW V8s), and it is willing -- if calculated! -- as it gains speed along highway stretches. Its brand-new 8-speed ZF automatic transmission is lighter and more efficient than its predecessor. It boasts five modes (Auto Normal, Auto Sport, Manual Normal, Manual Sport, and Increased Control & Efficiency, a.k.a. ICE) and employs special software that will automatically recognize and adapt to driving styles and road conditions. The car feels smooth as it accelerates, yes, but it's the smoothness of a large beast that has determined to finally gather some speed and gallop in the right direction.
Fine, then. But the staggered way you have to press a button underneath the top of the short shifter that controls it all is annoying. (Use the paddle shifters in this puppy – they're easier.) It's not a smooth transition to move it from Drive to Neutral, or from Neutral to Reverse. Instead, it feels like you're pushing buttons and pulling levers every which way like on some sort of trolley. Presumably if you own the car you get used to it, but after four days of driving, at least, it still felt unnatural to me.
Rain Dancer
I do appreciate the Q4 four-wheel drive system in this beast, especially considering the fact that we have already received a "severe winter weather" warning here at the Bloomberg offices this week and it's not yet December. The system works by routing the car's power to the rear wheels -- except when it can tell the car is losing grip, at which point it transfers power to the front until the drive is balanced between both the front and rear axles. Credit that adjustment to the Quattroporte's smart drive system, which is engineered to continually vary torque between all four wheels (again, this happens by its ability to analyze those tricky driving styles and road conditions).
It rained two nights in New York last weekend – I could feel the reassuring grip of the tires as I drove, and I did feel thankful. The car felt like a tank.
When you order this car you can choose between summer and winter tires. You know which to choose.
Before it's here, it's on the Bloomberg Terminal.
LEARN MORE