The Epic Two-Minute Attack Ad That Will Hit Mary Landrieu on Thanksgiving
Yet another conservative group jumps into the campaign to unseat the Louisiana senator.
By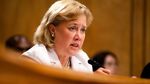 No political PAC has challenged the American attention span quite like Conservative War Chest. The pro-Republican group, best known for its epic "Gang of Five" attack ads on various Democratic candidates, is heading into Louisiana for a buy that could go as high as $100,000.
Into the gap left by Democrats, who have started to cut bait on Senator Mary Landrieu, comes this spot: Two minutes of attacks on Barack Obama's SCOTUS defeats, executive orders, treaty negotiations, and general affronts to America, ending in a portrait of Thanksgiving dinner and an out-of-nowhere appeal to vote for Landrieu's opponent, Bill Cassidy.
It's compelling, though the greatest Thanksgiving-themed ad of all time remains the Our Country Deserves Better PAC spot that thanked Sarah Palin just for being Sarah Palin.
The CWC ad launches Thursday. Landrieu trails Cassidy in every public poll of the Louisiana runoff, set for Dec. 6.