The Best Damn Turkey Brine in America Might Be John Boehner's
The Speaker of the House shares his not-so-secret recipe in a new video.
By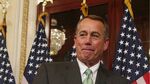 The Boehner Brine is Speaker John Boehner's trademark Thanksgiving special, crafted after years of finessing a recipe he found online.
"Well, I decided a couple of years ago that I would try to brine a turkey," Boehner said in a new video.  He "found some recipe online, worked on it, tinkered with it, and over a period of about five years I settled in on my current brine."
Not to criticize the Speaker, but brining has its downsides. While you're retaining a lot of moisture, that mositure tastes like water. As J. Kenji López-Alt at Serious Eats wrote, "that extra 30 to 40% savings in moisture loss is not really turkey juices—it's plain old tap water. Many folks who eat brined birds have that very complaint: It's juicy, but the juice is watery."
Still, if you trust Boehner's turkey leadership as much as House Republicans trust his general leadership, here's how:
Ingredients
8 quarts of water
6 bay leaves
kosher salt (you can probably use regular salt)
"a handful of peppercorns"
a big head of garlic, cut in half
16 ounces of pure maple syrup (This is "the real secret" according to Boehner)
The Boehner Brine
1. Add ingredients to a pot, bring it to "the point where it's about to boil." Turn it off.
2. "Take a bucket, put a bag in there, put the turkey in there after I've rinsed it off, pour the brine in there—brine has to be cool," Boehner instructed.
3. Put your turkey brine bucket in the refridgerator, or "outside if it's cold enough," Boehner said. Leave it for 24 hours.
Cooking
4. Take the now brined turkey out, rinse it off again.
5. For the first half of the cooking time, cook the bird breast out.
6.  "Halfway through I go in and I literally pick it up and turn it over," Boehner said. Do not figuratively pick up the turkey.
Pro-tip: "Now I only cook my bird to about 160. Max," Boehner said.
7. After you've cooked the turkey to about 160 degrees Fahrenheit, take it out of the oven and let it sit for at least an hour. "It's the resting time that really works," he said.