Spanish Theater Company Solves Tax Problem With Porn
Tucking tickets into porn mags is one way to protest a levy
By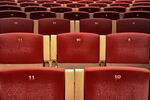 In 2012, as part of drastic austerity measures put in place to curb Spain's runaway budget deficit, the conservative government of Prime Minister Mariano Rajoy raised sales taxes on sporting events, leisure activities, and personal services such as haircuts. Cinema and theater were among the hardest-hit industries, with levies on ticket prices for both movies and live shows almost tripling to 21 percent from 8 percent. The actor Javier Bardem joined protest marches through the streets of Madrid, and the director Pedro Almodóvar wrote op-eds accusing Rajoy of destroying the country's movie industry.
Spain's theater companies may have suffered the most. Audiences for performances have declined a third and revenues have fallen about 14 percent since the economy crashed in 2008, according to the Spanish Society of Authors and Publishers. The number of live performances is down 26 percent. Spain's theater tax is the second-highest in Western Europe, behind Denmark at 25 percent, according to the European Commission.
Now, a company in Madrid says it's found a way around the tax. Primas de Riesgo—a name that translates as risk premium—says it is registering as a porn distributor and selling 300 back issues of the 20-year-old porn magazine Gente Libre, or Free People. Each copy costs €16 and comes with a "free" admission to the company's new production of El Magico Prodigioso, a 17th century drama by Pedro Calderón de la Barca, at the New Alcala Theater in central Madrid.
Theatergoers still pay a tax, but it's only 4 percent—the standard tax on magazines. "This is a stand against the government," says Karina Garantiva, the company's 33-year-old director. "If we allow a super-reduced rate for porn and punitively tax works by Calderón, who is part of our national heritage like Shakespeare for the British, then as a society we're lost."
Rajoy's government continues to defend the tax increase. In an e-mailed statement, the budget ministry said it was required to balance public accounts and that theater is doing its bit to pull the country out of its crisis. In public statements, Rajoy has forecast that Spain will shrink its budget deficit to 5.5 percent of gross domestic product this year, from 10.3 percent in 2012. He faces a general election next year. With his party languishing in opinion polls, Rajoy has announced plans to cut some taxes, though not the tax on theater tickets. "The theater sector doesn't have a massive impact on the deficit," says José Carlos Diez, an economics professor at the University of Alcalá. "They could reverse the rate whenever they want, but they made a mistake increasing it and they don't want to admit the error."
José Asensio, a vendor who is selling the porn magazines with tickets for Primas de Riesgo at his sidewalk kiosk in central Madrid, says the government should let up on taxing culture. "Theater or cinema isn't a physical need," he says. "But it is a spiritual one."
BOTTOM LINE -
The bottom line: Spain's conservative government raised taxes on live theater; actors and directors say the move is a culture killer.
Before it's here, it's on the Bloomberg Terminal.
LEARN MORE