Small Business Saturday Is the Loneliest Shopping Holiday
by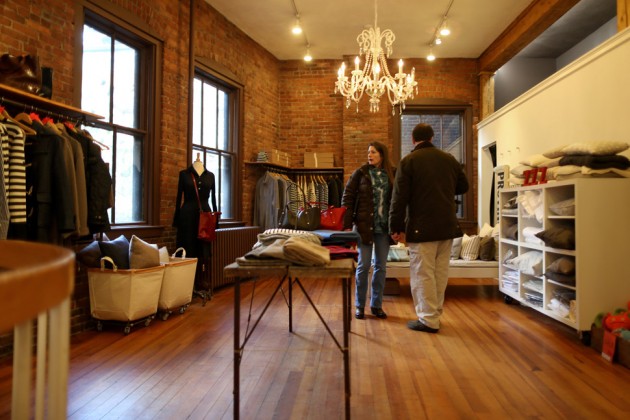 Small Business Administration chief Maria Contreras-Sweet was in New York City yesterday to promote Small Business Saturday, which is Main Street's bid for post-Thanksgiving shopping dollars. "What I like about shopping small is that you get a sense of the uniqueness of the community," she said during a visit to Studio Manhattan, a shop on Mulberry Street in Little Italy that sells prints of iconic photographs on leather belts, wallets, and other materials.
Before she left, Contreras-Street bought a photograph of a street mural that had been printed on a small canvas. It read: "Change Your Life." Store owner Ayhan Kimsesizcan, a native of Turkey who with his wife owns three Studio Manhattan shops, gave the SBA chief an early Small Business Saturday discount. It was a sweet scene, for the two reporters who witnessed it.
But compared with the hoopla of Black Friday and Cyber Monday, it was like bringing a (handmade) knife to a gunfight. American Express launched the Small Business Saturday promotion in 2010. The credit card company typically offers small rebates to cardholders who buy from local businesses on the Saturday after Thanksgiving. Other companies and local business associations join in to promote shopping small. Americans who knew about Small Business Saturday spent $5.7 billion in local shops last year. That number is based on a survey of 1,000 people, and doesn't tell us what respondents would have spent if they had never heard of the promotion.
Does Small Business Saturday actually make a difference for small merchants? I spent a couple of hours talking to Kimsesizcan's neighbors on Mulberry Street. Among the 16 store owners and managers I spoke to, Nick Bari was the most enthusiastic about the promotion. He owns an Italian restaurant called Benito One, and plans on accepting coupons issued by a local merchants association that give a discount to customers who spend $50 or more. "I don't think it's going to be a big deal one way or another," he says. "It's more of a gesture than anything else."
The rest of the responses ranged from skepticism to ignorance. Florist Shu Liang had never heard of the promotion, but didn't think she was missing anything: She sells high-end arrangements. Her customers don't tend to overlap with people who shop at bigger businesses like 1-800-Flowers, so exhortations to shop small likely don't move the needle.
Ornob Etiaq, who was manning the register at Royal Fashion, a souvenir shop owned by his sister, says the days after Thanksgiving are usually slow, but advertising discounts would only encourage hagglers. When I explained Small Business Saturday to the staff at Alleva, which bills itself as the oldest cheese store in America, they laughed me out the door.
Even businesses that seemed like good bets for holiday shopping had little in the way of Small Business Saturday plans. The manager at Malia Mills, which specializes in women's swimwear, had never heard of the promotion. Ditto for a neighboring clothing shop, Creatures of Comfort.
Sheryl Lee, owner of Bag, participated last year and planned to put the Small Business Saturday promotional sticker in her window again. But she wasn't expecting much of a boost. She sells handbags, which are tricky gifts to buy for others; the week after Christmas, when women are shopping for themselves, is usually more profitable. "People are only willing to be so charitable when it comes to their budget," she says.
This is a small survey, of course, and far from scientific, and there are plenty of reports in which small business owners brag about their Small Business Saturday plans. It's also a relatively new promotion. American Express has lined up hundreds of partners, including Facebook, Verizon, and AARP, which should help get the word out to more businesses in the years to come. Still, Lee makes a good point. Urging consumers to shop small is easy, but the feel-good cause of supporting local business is unlikely to make a sale. On Mulberry Street, at least, America's newest shopping holiday is likely to be much like any other Saturday.
Before it's here, it's on the Bloomberg Terminal.
LEARN MORE