Why Russia Said 'No Deal' to OPEC on Cutting Oil Production
By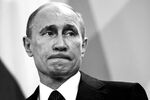 No country is suffering more from plunging oil prices than Russia. The world's biggest producer of crude, it's set to lose $100 billion a year as prices hover below $80 a barrel. President Vladimir Putin says a "catastrophic" further slump is "entirely possible." So why has Moscow ruled out a possible deal with the Organization of Petroleum Exporting Countries to shore up prices by cutting production?
Igor Sechin, chief executive of state-controlled oil giant Rosneft, traveled to Vienna ahead of OPEC's Nov. 27 meeting, prompting speculation that Russia, which isn't an OPEC member, might agree to curb production in tandem with the cartel. But on Nov. 25, after talks with representatives of OPEC members Saudi Arabia and Venezuela, and nonmember Mexico, Sechin told Bloomberg News that the four countries agreed only to "monitor oil prices over the next year."
Why wouldn't Russia be pushing harder than anyone to squeeze oil supplies?
One explanation is that Moscow can't easily turn off the tap in Siberian oilfields, where it's difficult to shut down wells during winter. "We are not Saudi Arabia, which has the ability to reduce production quickly," Energy Minister Alexander Novak said this week.
What's more, the Kremlin has been cushioned somewhat from the price decline because the value of the ruble currency has also fallen sharply. Even though the dollar value of its oil exports has fallen, their value in rubles has remained relatively steady, so the government can still collect enough oil taxes to cover pensions and other budget obligations.
And Sechin says that Russian oil companies are accustomed to dealing with sharp price fluctuations. "A decline in the price of oil, even below $60, isn't so dramatic for us that it would require immediate cuts" in production, he told Bloomberg.
The main reason for Russia's reluctance, though, is that it really can't afford to sell less oil. Oil exports are the country's key source of hard currency, as Western sanctions have sharply limited Russia's access to global capital markets. And Russian oil companies need to keep that money coming in, because it's getting more expensive to extract oil from dwindling reserves in their main Western Siberian oilfields. "They need enhanced techniques for Western Siberia to keep increasing production and even to keep it flat," says Richard Mallinson, a geopolitical analyst at Energy Aspects, a research consultancy in London.
Sanctions also have cut off Russia's access to high-tech Western oil technology and know-how and have slowed progress on some new projects, such as an Arctic joint venture between Rosneft and Exxon Mobil.
Alexander Kornilov, an Alfa Bank energy analyst in Moscow, tells Bloomberg that Russian oil production might dip slightly if lower prices made some marginal wells uneconomic. But no cuts will be made "on purpose, to influence the market." For now, he says, "Russia will produce as much oil as it can."
Before it's here, it's on the Bloomberg Terminal.
LEARN MORE