Osborne Seen Gambling on Austerity as U.K. Outlook Dims
Svenja O'Donnell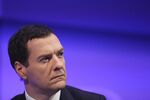 Chancellor of the Exchequer George Osborne goes into his end-of-year economic statement gambling his commitment to austerity will earn him credibility with voters.
With tax receipts falling short of projections and the embattled euro-area economy dimming U.K. growth prospects, Osborne has little scope for sweeteners to woo voters before the May 2015 election. Ninety-six percent of economists in a Bloomberg survey say he'll have to step up the pace of cuts to meet his target to balance the books by 2020.
"The public-finances story this year has been a disappointing one," said Philip Shaw, chief economist at Investec Securities in London. "There can't be a loosening of the purse strings at this particular time, so any giveaways we get will be small." Osborne presents his Autumn Statement to Parliament on Dec. 3.
Four years after inheriting the biggest budget deficit in British peacetime history, Osborne is less than halfway toward his goal of returning the public finances to surplus by the end of the next parliamentary term. Gilts, which returned 12 percent this year, could come under pressure, according to UBS AG.
The budget shortfall was almost 6 percent of gross domestic product in 2013-14, which ended in March, and borrowing has widened during the first half of the current fiscal year.
Low Pay
That's largely because many of the 1.7 million jobs created since 2010 are low paid and generate little tax revenue. In March, the Office for Budget Responsibility predicted the deficit would shrink by 12 billion pounds ($19 billion) this year.
Osborne's pledge to balance the books without resorting to tax increases is complicating his task. The chancellor is seeking 25 billion pounds of spending cuts to eliminate the structural deficit by 2018, about half of it coming from welfare savings. On top of that, he'll need to find about 7 billion pounds to pay for tax reductions for people on middle incomes, promised by Prime Minister David Cameron last month.
A further squeeze may be needed if the OBR judges the loss of income-tax revenue is set to persist.
"The challenges are still considerable and there need to be substantial cuts still," said Neville Hill, an economist at Credit Suisse Group AG in London and a former Treasury official. "We will probably see a continuation of the austerity message the government has run. There's a lot of work to be done but they might not admit to that before the election."
Political Mileage
Osborne can turn austerity to his advantage, according to Shaw. While his Conservative Party and the Labour opposition are virtually neck-and-neck in opinion polls, Osborne and Cameron score more highly on the question of economic stewardship than Labour leader Ed Miliband and his finance spokesman Ed Balls.
Labour is promising to eliminate the deficit on day-to-day spending, but maintain borrowing for investment, which stood at 25 billion pounds last year. Osborne accuses the party of being soft on deficit reduction.
"From a political perspective, the Tories have been most trusted on the economy," Shaw said. "It may be that Osborne makes a virtue of not having very much room. There may be some political mileage in that."
Market Outlook
According to UBS strategist John Wraith, the state of the public finances is starting to concern government-bond investors, with gilt yields falling less than interest-rate swaps. The 2.25 percent gilt maturing in September 2023 currently yields 8 basis points less than the fixed rate on a similar-maturity swap compared with over 13 basis points in mid October.
That underpeformance could continue if, as he expects, the OBR adds as much as 75 billion pounds to its borrowing forecasts over the next five years. Gilts maturing in five to 15 years are the most vulnerable, he said.
"There's a political imperative for Osborne to come up with something that generates popularity, but there'll be no freebies handed out," with any giveaways balanced by cuts elsewhere, he said. "The public finances are going in the right direction, but they're taking a long time to get there."
Before it's here, it's on the Bloomberg Terminal.
LEARN MORE