Obama's OK If You Call This One Amnesty
It might be the only executive action the president can take for the rest of the year without fear of a lawsuit from Republicans.
By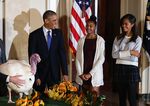 "I am here to announce what I'm sure will be the most talked-about executive action this month," President Barack Obama said Wednesday afternoon at the White House. The foyer was spilling over with camera crews and an international bevy of journalists straining for a better view.  "Today, I'm taking an action fully within my legal authority, the same kind of action taken by Democrat and Republican presidents before me."