politics
Obama's OK If You Call This One Amnesty
It might be the only executive action the president can take for the rest of the year without fear of a lawsuit from Republicans.
By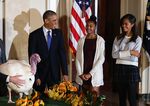 "I am here to announce what I'm sure will be the most talked-about executive action this month," President Barack Obama said Wednesday afternoon at the White House. The foyer was spilling over with camera crews and an international bevy of journalists straining for a better view.  "Today, I'm taking an action fully within my legal authority, the same kind of action taken by Democrat and Republican presidents before me."
"I know some will call this amnesty," said the beleaguered lame duck, and everyone laughed.
Obama's action, of course, was the annual "pardoning" of an enormous National Thanksgiving Turkey -- that designation went to a turkey named "Cheese" - and its alternate, "Mac" - a strange if beloved tradition involving the National Turkey Federation and a flash of feathers and gobbling. "Let's face it, if you're a turkey and you're named after a side dish, your chances of escaping Thanksgiving dinner are pretty low, so these guys are well ahead of the curve," Obama said. "They really beat the odds." Obama observed that while the tradition is "a little puzzling," he enjoys it because "with all the tough stuff that rolls around in this office, it's nice once in a while just to say happy Thanksgiving, and this is a great excuse to do it."
While the pardoning was all in good fun, Obama's one-liners did have a bit of an edge to them. Republicans' fury over his recent executive actions on immigration seemed to be on his mind. "It is important to note that turkeys have always had powerful allies," he said. "Many of you know that Benjamin Franklin once wrote 'I wish the bald eagle had not been chosen as a representative of our country. He is a bird of bad moral character. The turkey is, in comparison, a much more respectable bird.'"
Before it's here, it's on the Bloomberg Terminal.
LEARN MORE