Chinese VIPs Flee Vegas Baccarat Amid Crackdown at Home
Christopher Palmeri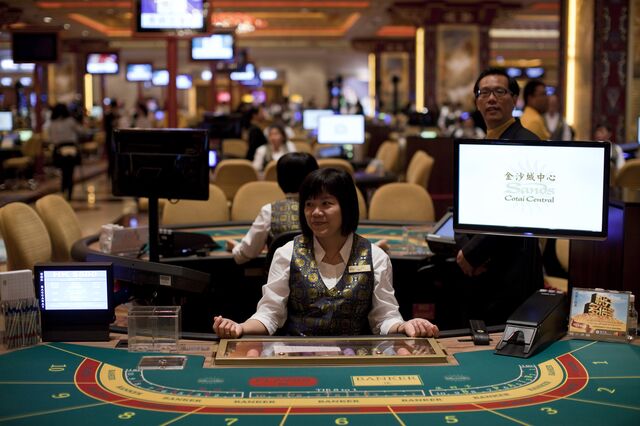 Baccarat winnings on the Las Vegas Strip fell 36 percent to $97 million in October, echoing declines in Macau where an anti-corruption drive in China has crimped high-end play.
Total casino revenue on the Strip fell 5.6 percent to $520 million last month with baccarat accounting for the largest share of the decline, according to data released yesterday by the Nevada Gaming Control Board.
The numbers suggest the drop in spending by high-end Chinese card players that began in June in Macau has spilled over to the U.S., said Brent Pirosch, an analyst with CBRE in Las Vegas. Other markets, such as Singapore, have also seen declines in baccarat play, as probes by the Chinese government and a weak mainland economy impact business. Baccarat, a card game where players compete against a designated banker, is the most-popular casino game in the Chinese enclave of Macau.
"It's a global VIP problem," Pirosch said in a telephone interview. "It's such a small, finite group," he said of the Las Vegas baccarat market. "It really only takes a few guys not playing, less than 100 folks, really driving that high-end play."
Baccarat Slump
The results in the largest U.S. gambling market mark the third month of decline for a game that has become a big revenue generator for MGM Resorts International, Las Vegas Sands Corp. and Caesars Entertainment Corp. Baccarat revenue on the Strip has tripled since 2004 to $1.6 billion last year, according to data from the University of Nevada's Center for Gaming Research in Las Vegas.
Wynn Resorts Ltd., which gets about 70 percent of its revenue from Macau, fell 0.5 percent to $177.06 as of the close of trading in New York. Wynn Macau Ltd. dropped 0.8 percent in Hong Kong. Among other Macau casino operators, Melco Crown Entertainment Ltd. lost 0.9 percent to HK$66.35 and SJM Holdings Ltd. dropped 0.1 percent.
More than half of Wynn Resorts' table-games business in Las Vegas comes from Asian customers, the company's president, Matt Maddox, said in testimony before Massachusetts gaming regulators last year.
The lower Las Vegas baccarat revenue is a combination of gamblers betting fewer dollars and the casinos winning less money from customers, Brian Miller, an analyst with Bloomberg Intelligence, said. The house kept 10 percent of the baccarat money bet in October, compared to 13 percent in the same period last year.
Before it's here, it's on the Bloomberg Terminal.
LEARN MORE