Justice Ruth Bader Ginsburg Has Stent Implanted, Supreme Court Says
Greg Stohr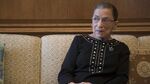 U.S. Supreme Court Justice Ruth Bader Ginsburg is recuperating in a Washington hospital after undergoing an emergency heart procedure to have a stent implanted in a coronary artery, the court said.
The 81-year-old Ginsburg, a two-time cancer survivor, is expected to be released in the next 48 hours, the court said. She was hospitalized after experiencing discomfort last night during exercise at the court, and doctors discovered a blockage in her right coronary artery.
Ginsburg expects to take the bench next week, when the court is scheduled to hear arguments in six cases and issue opinions, according to Kathy Arberg, the court's spokeswoman.
"This is a very routine procedure and shouldn't pose any significant risk," said Samir Kapadia, director of the Sones Cardiac Catheterization Laboratories at the Cleveland Clinic in Ohio. He said the recurrence rate was low, with the affected artery re-narrowing in fewer than 10 percent of cases.
Ginsburg, the court's oldest justice and the leader of its liberal wing, survived pancreatic cancer in 2009 and colon cancer in 1999 and prided herself on not missing any of the court's public sessions. She has said repeatedly that she has no plans to retire anytime soon.
"As long as I can do the job full steam, I will stay here," she said in an interview with the New Republic in September.
Retirement Question
A 1993 appointee of President Bill Clinton, Ginsburg supports abortion rights and affirmative action and voted to uphold President Barack Obama's health-care law.
Some leading constitutional law experts have called on her to retire so Obama can appoint a successor before he leaves office in 2017. Any nominee would have to win approval from the Senate, which starting in January will be under Republican control.
Each year more than a half-million Americans get stents, tiny metal and mesh tubes made by Abbott Laboratories, Boston Scientific Corp. and Medtronic Inc.
The procedure to insert a stent is minimally invasive, Kapadia said. Doctors typically run a catheter either through the wrist or the groin, he said.
Their use among patients without symptoms has sparked debate over the cost, which can run as high as $50,000 at some hospitals, and its side effects, which can include excess bleeding, blood clots and in rare cases death.