Indian Stocks Advance Before Derivatives Expiry as ITC Rebounds
Rajhkumar K Shaaw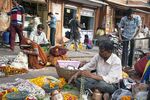 Indian stocks rose for the fourth time in five days, with the benchmark index erasing an intraday loss, as some traders closed bearish bets before the expiry of monthly derivative contracts tomorrow.
ITC Ltd., India's biggest cigarette company, rebounded from the steepest drop in five months. Bharat Heavy Electricals Ltd. rose to the highest level since May. DLF Ltd. surged 7.2 percent, pushing up a gauge of property developers by the most in two months.
The S&P BSE Sensex added 0.2 percent to 28,386.19 at the close, erasing an earlier loss of as much as 0.3 percent. The CNX Nifty rose 0.2 percent to 8,475.75, rebounding from the biggest drop in a month yesterday. The Sensex has advanced 34 percent this year, sending valuations earlier this week to the highest level in two months.
"The market will consolidate around current levels amid volatility before the expiry of derivatives," Jayant Manglik, president of retail distribution at Religare Securities Ltd., said by e-mail. "The positive bias will remain intact as long as the Nifty remains above 8,300 mark."
The Sensex has climbed in the past five weeks on bets the government will accelerate reforms to boost economic growth. The gauge's valuation reached 15.8 times projected 12-month earnings on Nov. 24, the most expensive since Sept. 9. Its relative strength index was at 75 on the same day, above the level seen by some investors as a signal to sell.
GAIL, ITC
ITC, which has the biggest weighting on the Sensex, rose 2.3 percent. The stock tumbled 5.2 percent yesterday after a panel set up by the health ministry proposed banning the sale of loose cigarettes and raising the minimum age for tobacco sales. Gail India Ltd., a supplier of natural gas, increased 2.8 percent, the most on the Sensex. Aluminum maker Hindalco Industries Ltd. rebounded 2.2 percent from an intraday loss.
Reliance Capital Ltd., which runs India's second-biggest mutual fund, rallied the most in a week after Nippon Life said it will raise its stake in Reliance Capital Asset Management to as much as 49 percent from current 26 percent.
Stock have climbed as lower oil costs have helped send consumer inflation below Reserve Bank of India Governor Raghuram Rajan's 6 percent goal for early 2016, stoking speculation the central bank will lower its benchmark interest rate on Dec. 2.
Options traders are stepping up sales of put contracts on the Nifty, a strategy that pays off when stock prices stay high and leaves the seller exposed to losses if the market declines, Hemant Nahata, derivatives analyst at IIFL Holdings Ltd., said by phone from Mumbai.
The ratio of outstanding Nifty puts versus calls rose to a one-month high of 1.29 on Nov. 24 and was at 1.14 yesterday. Puts with the highest open interest today have a strike price of 8,300, or 1.8 percent below the Nifty's current level.
"We don't see any major reversal," Hemen Kapadia, senior vice-president for institutional equity at K.R. Choksey Securities Pvt., told Bloomberg TV India today. "Technically, we are on a solid ground for the long term."
Global investors bought a net $202.1 million of local shares yesterday, taking this year's inflow to $15.8 billion, the most among eight Asian markets tracked by Bloomberg.
Before it's here, it's on the Bloomberg Terminal.
LEARN MORE