In Ferguson's Violence, Small Business Owners Are the Biggest Losers
Christopher Leonard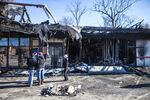 In August, in the wake of the shooting death of teenager Michael Brown and subsequent unrest in Ferguson, Mo., I profiled a number of local business owners for a feature in Bloomberg Businessweek. One of them, Charles Davis, had opened his restaurant, Ferguson Burger Bar & More, just a few days before Brown's shooting. Davis kept his restaurant open while rioters and looters caused havoc outside his restaurant.
This past Monday night, after a grand jury decided not to indict police officer Darren Wilson in connection with Brown's death, Davis looked out the plate-glass windows of his burger restaurant and saw that the strip mall across the street was on fire. Once again, Davis carried on, serving burgers while more stores up the street were set ablaze. He closed at the normal time, 11 p.m., but he couldn't drive home until after midnight.
"I couldn't leave any earlier—they had the tanks and the military on West Florissant," he said, referring to the commercial avenue outside his restaurant. He said this with a kind of nonchalance that might seem striking to outsiders. But in Ferguson, armored vehicles, tear gas, and looting have become the norm for small business owners.
This week's riots have been portrayed as a struggle between aggrieved citizens and the police. But the vast majority of the damage from the unrest has fallen on the shoulders of local businesses. Stores have been looted and vandalized, customer traffic has fallen dramatically at some locations, and now retail outlets are being burnt to the ground. Even when the protests end, the damage to the local economy will likely endure for a long time to come.
Virtually none of the businesses that have been hurt by the turmoil are big national chains. They are mom-and-pop shops and franchises run by local owners. Businesses in Ferguson filed insurance claims worth less than $250,000 for the period between Aug. 10 and early September, when protests cooled, according to a survey of insurance carriers by the Missouri Department of Insurance. A Washington Post analysis of local sales tax revenue found that revenue fell 6 percent in Ferguson between August and October when compared with the year before.
These numbers might seem small compared with the annual revenue of big St. Louis companies, such as Monsanto or Emerson Electric. But for small businesses, the damage is very real, and it will likely be irreparable for many of them.
"There are going to be a lot of businesses that don't reopen—I'm sure of that," said Robert Chabot, who owns an eye-care business in downtown Ferguson and is president of the local school board.
Davis's and Chabot's businesses are located on separate business strips in Ferguson where the clientele largely breaks down along racial lines. Davis's business, on West Florissant Avenue, is in a strip of shops that caters largely to black residents. Chabot's office, on South Florissant Road, is near a refurbished historic downtown strip where a brewpub, wine bar, and bakery cater to a mostly white clientele.

In August, virtually all the protests were on West Florissant. But this week the turmoil moved into the once pristine historic downtown, as protestors focused their attention on the Ferguson police station there. A police car was set on fire there, tear gas canisters arced through the air, and stores were looted for the first time.
Chabot spent much of the past two months preparing for the grand jury decision. He found places off site to park company cars. He moved many of his sensitive documents and equipment to a storage unit away from downtown and put new locks on the doors. On Monday night, Nov. 24, Chabot sat in his house, watching events unfold on security cameras he installed outside his business, located just a few doors down from the police station. "I was seeing men throw chairs and other objects through the windows of my fellow business owners. I could see tear gas being launched," he said. "It was heartbreaking."
Down the street, shopowner Susan Brown adopted a new routine at her children's clothing store, called Children's City Discount Clothing. For the past few weeks, she has been screwing plywood over her display windows when she closes the store from Sunday to Tuesday. It's a lot of work, but she can't afford to lose merchandise to looters. Business is already down about 75 percent since she opened the store in May, Brown said. Her store was boarded up this week, and she was unsure when she would open again.
"We could open up, but it's just the defeat of not having people come in," she said.
The best hope for local businesses is that the riots prompt the larger business and civic community in St. Louis to tackle deep problems that have long festered in the region. Virtually everyone agrees that it will be a long-term effort and will involved reforming schools, police forces, and local governments while encouraging new private investment in the area.
Signs are that the business community has gotten the message. In early September, health-care services company Centene, one of the biggest companies based in St. Louis, announced it will build a new processing center in Fergusuon, providing about 200 new jobs to the area. The company said it chose Ferguson specifically to help the area recover from this summer's turmoil.
Davis said business at Ferguson Burger Bar & More has been volatile since August. During the summer riots, he saw a big boost in sales as his place became a safe haven for reporters and protestors. Since then, business has fallen off. But his sales are enough to cover the bills, and he gets extra customer traffic from people who want to support local businesses.
Even after several stores burned down Monday night, Davis refused to board up his windows. Part of the reason was religious—he says the store is God's to protect, not his—and part of it seems to be a message to his customer base.
"It's putting my trust in the community to say: 'Hey, we're here. We're a beacon of light … I would like for us to be that beacon of light in a down time,'" Davis said.
Before it's here, it's on the Bloomberg Terminal.
LEARN MORE