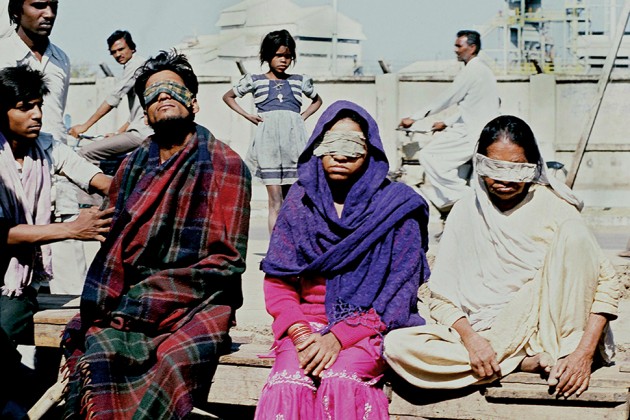 Thirty years ago, on Dec. 3, 1984, an enormous 40-ton plume of poisonous gas escaped from a Union Carbide insecticide plant in Bhopal, India. Three thousand people died within days, tens of thousands over subsequent years. An estimated 500,000 suffered lung cancer, kidney failure, and other diseases.
Union Carbide, one of the 30 companies then in the Dow Jones industrial index, became a symbol of corporate irresponsibility. In the U.S., that ignominious distinction faded with time. On Sept. 29 of this year, Warren Anderson, who headed Carbide during the crisis, died at the age of 92 in a Florida nursing home. Neither Anderson's death nor the passage of three decades has erased the disaster from Indian memory, according to Suketu Mehta, an Indian-born journalism professor at New York University who's done extensive reporting in Bhopal. In the less media-saturated, pre-Twitter 1980s, the disaster didn't make the impression on Westerners it would today, notes Mehta: "From the Indian point of view," though, "it was 9/11."
No one at Carbide's headquarters in Danbury, Conn., intended to terrorize and kill poor Indians. Still, as measured by sheer carnage, Bhopal constitutes the worst industrial accident ever, one rooted in negligence and compounded by after-the-fact evasion. Beyond sullying the reputation of multinational corporations, the episode left a sobering legal legacy: the U.S. judiciary's unwillingness to grapple with the onerous side effects of underregulated industrialization. How much have things changed since? Would we react differently to a comparable disaster today?
Toxic methyl isocyanate, an insecticide ingredient, began escaping from the Carbide plant around midnight on Dec. 3 and soon inundated the slums of Bhopal. Subsequent investigations by the New York Times and the Indian government discovered both dire errors by local managers and flaws in safety systems designed in the U.S. according to Carbide's specifications. In violation of plant procedures, Indian supervisors had shut down a refrigeration unit that should have cooled the methyl isocyanate and prevented or suppressed dangerous chemical reactions. Stuart Diamond, then a reporter for the Times, wrote in 1985 about a factory supervisor who claimed he mistook the poisonous-gas emission for water seepage and postponed any response for a critical hour—until after the next tea break.
Carbide's hands-off attitude toward its Indian managers "amounted to giving fire to people who didn't understand the danger of fire," says Diamond. In interviews in 1985, Anderson admitted that the plant used procedures not tolerated in the U.S. At the same time, though, more junior Carbide executives attributed the disaster to sabotage by Indian employees. Diamond says the Indian government shared blame: Local authorities exerted negligible oversight and allowed poor people to live right against the plant fence, probably raising the death toll by thousands.
American plaintiffs' attorneys arrived in Bhopal in droves to prospect for clients. One of their number, Daniel Abel of New Orleans, recalls that he and his colleagues decided early on to sue Carbide in the U.S., calculating that the American judiciary would be speedier and less corrupt than its Indian counterpart. "We thought our federal system would provide justice because of the involvement of an American corporation," Abel says.
However, in May 1986, U.S. District Judge John Keenan of New York dismissed the multibillion-dollar suit against Carbide. He ruled that India would provide a more appropriate legal venue, in part because that's where the bulk of the evidence and all of the victims could be found.
Litigation shifted to India, where in response to a demand for $3 billion from the Indian government, Carbide offered $200 million. Measured in cold pecuniary terms, the company's tough bargaining paid off. In 1989, three years after Anderson retired, the Indian Supreme Court approved a settlement of $470 million (equivalent today to $900 million). That was pretty much the end of the story as far as Carbide was concerned. In 1999, Dow Chemical bought the notorious company, denying that any disaster liability accompanied the acquisition.
In 2010, 26 years after Bhopal, eight midlevel Indian managers formerly employed by Carbide's subsidiary were convicted in an Indian court of criminal negligence and sentenced to short prison terms. According to media reports, payouts by the Indian government to Bhopal claimants over the years averaged about $550 apiece. Anderson lived out the rest of his life gardening, fishing, and sidestepping the occasional subpoena by shuttling to and from homes in Vero Beach, Fla.; Greenwich, Conn.; and Bridgehampton, N.Y., the New York Times reported in its obituary.
Bhopal sent a signal about the American judiciary not widely appreciated at the time of the disaster, says Kenneth Feinberg, a Washington lawyer who specializes in overseeing mass-injury settlements. "In 1984," he says, "many people assumed that the U.S. courts would use creative class-action procedures to aggregate claims and settle them efficiently. We were wrong."
Instead, he says, the American judiciary has grown increasingly skeptical of mass litigation. In the 1990s, the U.S. Supreme Court issued rulings making it exceedingly difficult to settle large class actions concerning illnesses linked to asbestos exposure. In a pair of recent human-rights decisions—one in 2013 involving Nigerian claims against Royal Dutch Shell and another this year related to allegations against Daimler in Argentina—the justices all but sealed American courts to suits seeking damages from multinationals based on activities outside the U.S. "Presented with ambitious class actions, the Supreme Court majority is saying, 'No, no, no. We don't see one we like,' " says Feinberg.
Most federal judges would argue that they lack the institutional competence and legal authority to sort out the rights and wrongs of corporate conduct the world over. Whatever the wisdom of this judicial modesty, it has had the practical result of leaving those affected by far-flung incidents like the one in Bhopal without remedies in the U.S.
The court of public opinion, now amplified by digital media, doesn't always follow formal legal precedent, of course. When BP's Macondo well erupted in April 2010, killing 11 rig workers and spewing millions of gallons of crude oil into the Gulf of Mexico, the fallout received nonstop mainstream media coverage and social-network-driven demands for reparations. President Obama intervened personally, and the combination of White House pressure and inescapable liability under U.S. oil-pollution statutes forced BP to move swiftly and offer $20 billion for cleanup and claims payments. To date, the company has written checks for more than $28 billion and has made accounting arrangements indicating it anticipates doling out billions more as a result of continuing litigation.
The comparison to Bhopal is a rough one, at best. Eleven fatalities don't compare with tens of thousands. On the other hand, the 11 were Americans, and the pollution sullied American shores, squarely within the reach of American statutes.
Nevertheless, it's likely that an American-based multinational implicated today in something like Bhopal would feel a degree of media and political pressure that did not weigh on Carbide as its executives calculated how to respond to the poisoning of innocent Indians. Those pressures might well force a corporation to offer a more timely and generous settlement.
More important, one hopes that the failings of Carbide, BP, and far too many other corporations in between have chastened industry leaders, encouraging them to enforce more stringent preventive safety policies and emergency response plans. In the absence of corporate integrity in the first place, there's only so much the lawyers can do to repair the damage.
Before it's here, it's on the Bloomberg Terminal.
LEARN MORE