They See You When You're Spending: How Pros Track Holiday Shoppers
by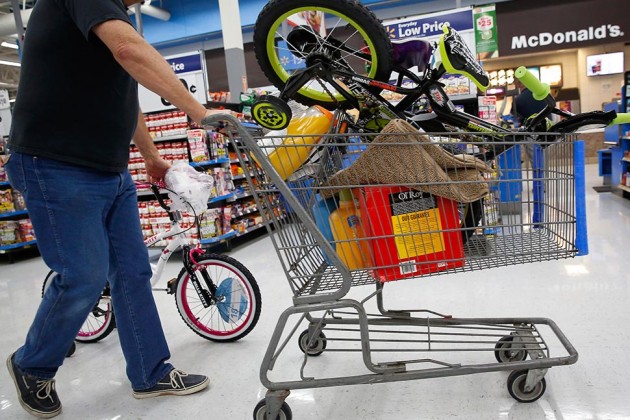 The feast of commerce is on. From Black Friday to Cyber Monday, Americans are about to go on an annual spending spree—one that comprises some 140 million consumers and underpins an industry supporting roughly one in four U.S. jobs. Just how many products will they purchase? That's the big question for manufacturers, retailers, investors, and anyone who cares about the economy at-large.
The forecasting and measuring of one of the busiest shopping weeks of the year happens across a wide spectrum, from payment processors and software companies to trade groups and big Wall Street banks. Retailers will use the data to make inventory and staffing decisions, investors will clamor for the numbers to handicap the shares of various companies, and economists will tune in to the reports to sample consumer sentiment. Think of it as a traditional Thanksgiving meal: There's the meat, the sides, and then the sliver of pie, for those who still have some appetite left.

The main course comes from actual spending. Adobe Systems, which has its software planted among most of the country's biggest retailers, says it captures $7 out of $10 spent in the U.S. Its Black Friday analysis is built on monthly shopping data going back to 2008. Not only does Adobe know how much people have been spending in October and early November, but it has a reasonable sense as to how commerce might be skewed by one-off events such as a political standoff in Washington or a freak snowstorm.
The next layer of data comes from trade groups, including the National Retail Federation (NRF) and the International Council of Shopping Centers (ICSC). These groups obtain fairly constant feedback from the thousands of retailers on their list of members, so their analysis is robust.
In addition to member feedback, ICSC surveys customers and compiles a weekly retail index from federal commerce data, capturing real spending, not just anecdotal reports. "They are all separate items, but each one gives me a temperature gauge, if you will, of different facets of the industry," said ICSC spokesman Jesse Tron. NRF surveys customers as well, and looks at a variety of standard economic indicators, including unemployment, personal income, consumer confidence, and consumer debt levels to help color commentary and forecasts. "It's part science, part art," said NRF Chief Economist Jack Kleinhenz.
Even more data comes from Wall Street analysts. Eager for a little something extra, the research departments of investment banks will pay for so-called channel checking, a shoe-leather strategy in which contractors visit stores, survey managers, or order products online to get a sense of just how brisk business has been. Farmhouse Equity Research, a California-based company that specializes in channel checks, boasts 100 "foot soldiers" that canvas companies. It has a simple marketing pitch: "The next best thing to talking with every buyer and visiting every mall in America."
The analyst team at Barclays casts its net a little wider. Among other things, it looks closely at how the back-to-school shopping season went, the strength of foreign currencies against the dollar, gas prices, and how many seasonal workers have been hired at big-box stores and delivery companies such as FedEx. Barclays backs these indicators up with historical correlation metrics, for those who may doubt the methodology.
Finally, there's the hedge-fund crowd, whose members typically aren't satisfied until they've tracked some unique and rare morsel of information. Some of these firms hire companies such as Digital Globe, which owns six satellites that circle the globe daily and capture photos of parking lots at big-box stores to see how full they are. "While it's interesting to look at the same store over and over and over again, what's really interesting is looking at thousands and tens of thousands of locations," said Shay Har-Noy, the company's senior director of geospatial big data.
Most of the data is routed to institutional investors, though Har-Noy said retailers have increasingly been calling. They use the photos to make staffing decisions and detect whether competing locations are seeing similar lulls and spikes in traffic.
What's the verdict so far this year? Americans are feeling pretty good; you might say generous. Almost all the companies and groups that handicap holiday shopping say U.S. consumers will spend from 4 percent to 5 percent more this week than they did a year ago, and they'll do a greater share of their shopping on computers and cell phones. Happy clicking!
Before it's here, it's on the Bloomberg Terminal.
LEARN MORE