Fuss Says Buy Stocks Not Bonds to Play Abenomics: Japan Credit
Kevin Buckland and Hiroko Komiya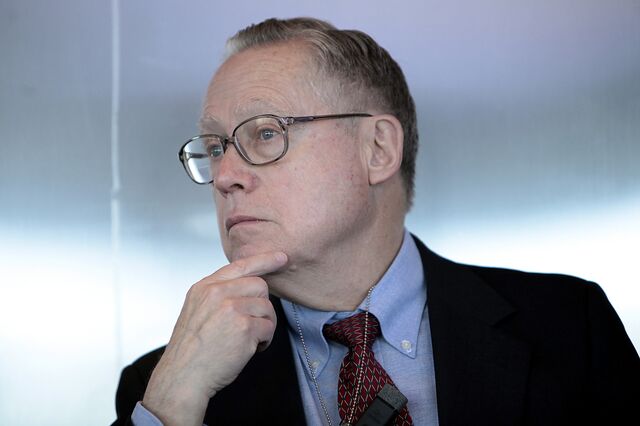 Dan Fuss, whose bond fund beat 99 percent of peers over the past five years, says stocks not government notes are the best way to profit from Prime Minister Shinzo Abe's push to create jobs.
Japan's government debt returned 2 percent in the past six months, the worst performance among major developed markets, as unprecedented bond buying by the Bank of Japan aimed at stoking inflation kept yields near record lows. The Nikkei 225 Stock Average has surged 18 percent over the period, the most among developed-market peers. Fuss holds some Japanese equities and no debt in the country.
"There is a push to get more people into the workforce and that's been succeeding," Fuss, who manages the $25 billion Loomis Sayles Bond Fund, said in an interview in Tokyo on Nov. 25. "Once it's apparent that that's happening, you don't want to be in JGBs, you want to be in the stock market."
Abe's three-arrow strategy of monetary easing, fiscal spending and structural reform -- including easier employment rules -- has helped almost double share prices since he took office in 2012. While salaries are rising the most in 2 1/2 years amid the lowest unemployment since 1997, higher sales taxes have crippled consumer spending and government debt has surged above 1 quadrillion yen ($8.5 trillion).
The yield on Japan's benchmark 10-year government bond dropped 1 1/2 basis points to 0.42 percent today, the least since April 5, 2013, when it briefly plunged to a record 0.315 percent, a day after the BOJ launched its unprecedented debt purchases.
Recession Shock
Policy makers expanded that program last month to stay on track to achieve their 2 percent inflation goal after a consumption tax increase in April unexpectedly sent the world's third-largest economy into recession. Earlier this month, Abe announced he would delay a subsequent bump in the levy by 18 months until April 2017, and dissolved parliament ahead of a snap election on Dec. 14.
Higher taxes are part of Japan's efforts to rein in the world's largest debt burden and fund social security costs for its aging population. The April increase took the levy to 8 percent from 5 percent, with the next rise pushing it to 10 percent. The economy contracted 0.4 percent in the three months to September from the previous period, when it shrank 1.9 percent, the most in five years.
While Fuss cites the budget as one reason he's avoiding Japan's sovereign debt, he says investors should cheer Abe's decision to delay the tax hike.
'Encouraging Sign'
"I don't think it's a warning sign; I think it's an encouraging sign," he said. "How on God's earth can you get the economy going by raising taxes?"
Stripped of the effect of the sales tax, the BOJ is still only halfway to its inflation goal, with its own estimates putting gains in core consumer prices at 1 percent in September from a year earlier. Including the levy increase, the broader inflation rate was 3.2 percent, meaning real yields on Japan's benchmark 10-year bond were minus 2.78 percent, compared with 0.58 percent in the U.S.
The central bank's quantitative easing, which now targets an annual 80 trillion yen expansion of the monetary base, has weakened the currency 13 percent against the dollar in the past six months, the most among its 15 major peers. That has boosted profits to records at Japanese companies, while slapping consumers with higher imported energy costs. The Japanese currency traded at 117.41 per dollar as of 7 a.m. in London.
Wage Worries
Salaries have failed to keep pace with prices, even without the sales levy increase. Base wages rose 0.4 percent in September from a year earlier, according to the latest figures from the labor ministry.
Fuss said a re-focus on high-tech industries could help rectify that, while also bolstering exports and fostering innovation.
"What you need is jobs that support higher compensation for the people, and that's basically technology," he said. "The potential is there. Education levels are high. A little more imagination might help once in a while."
The outlook for the JGB market depends entirely on the BOJ, according to Fuss. Under its expanded stimulus, the central bank has the leeway to soak up every new bond the government issues.
Ultimately, it will be Abe's labor reforms -- not currency-depreciating measures -- that can revitalize Japan, Fuss said.
"Cutting the currency isn't going to do it, because your import costs are in other peoples' currencies," he said. "Do I think the third arrow is good? Yes, I think it's great."
Before it's here, it's on the Bloomberg Terminal.
LEARN MORE