politics
Corporate PACs Help Cover Lawmakers' Campaign Debt
A political donation to retire campaign debt is one way to curry favor with incoming lawmakers in Washington.
By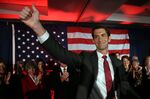 'Tis the season for giving, even for political action committees.
PACs—the political-donation arms of corporations, trade groups and other organizations—are using this immediate post-election period to help some incoming lawmakers retire campaign debt incurred in the waning weeks of the Nov. 4 election.
This includes PACs who sat out a particular general-election race or had a history of backing the candidate who lost. These post-election donations are a cost of doing business in Washington.
Example: Delta Air Lines's PAC gave $2,500 to Arkansas Senator-elect Tom Cotton on Nov. 18, two weeks after the Republican trounced Democratic incumbent Mark Pryor, according to a filing with the Federal Election Commission. Delta's PAC gave a total of $2,500 to Pryor's campaign in late 2013 and early 2014, according to the Center for Responsive Politics.
Duke Energy, based in Charlotte, N.C., sent a $5,000 debt-retirement PAC check to Republican Thom Tillis 17 days after he unseated Democratic Senator Kay Hagan in the Tar Heel State. Duke Energy didn't give to either candidate during the 2014 campaign, though the PAC did give $6,000 to Hagan during the 2010 cycle and another $4,000 to her during the 2012 election, CRP data show.
Look for more of these debt-retirement donations to trickle in over the week or so. PACs, political party committees and federal candidates in the 2014 election are required to file updated campaign finance reports by Dec. 4 that cover the election-sandwiching period of Oct. 16-Nov. 24.
Before it's here, it's on the Bloomberg Terminal.
LEARN MORE