China in Talks to Build India's First High-Speed Rail
By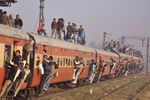 Much of India's railway system was built by the British during the 19th century and the early 20th century. So it's no surprise an upgrade is badly needed. Cue China, home to the world's most extensive high-speed rail network, flush with cash, and driven by a huge ambition to take its industry global.
The two countries are discussing jointly building India's first high-speed railway, a 1,754-kilometer track from Delhi to Chennai that could cost 200 billion yuan ($32.6 billion), the China Daily reported on Tuesday. Bullet trains would travel at speeds up to 300 kilometers an hour on the line between India's capital and the southern commercial and industrial city.
Officials from Indian Railways arrived in Beijing on Monday and are meeting with Chinese counterparts to hammer out a feasibility study for the project, India's Economic Times reported. Just how eager is Beijing? Chinese officials have agreed to shoulder the full cost of the initial study, a spokesman for India's ministry of railways said on Tuesday.
If completed, the deal would allow Chinese companies, notably China Railway Construction (CRCC), to provide newly designed railway tracks, automated signaling equipment, and modern stations that India's rail system "desperately needs," the China Daily reported, citing Feng Hao, a researcher at the Institute of Comprehensive Transportation, which is part of the National Development and Reform Commission, China's planning agency.
China has been pushing to expand its high-speed rail business overseas, and CRCC recently signed a $12 billion contract to build a coastal line in Nigeria. A $3.75 billion deal whereby CRCC and several Mexican companies were to build a bullet train in Mexico was canceled just days after being signed earlier this month, following reports of possible corruption.
"International markets—especially Latin America, Africa, Southeast Asia, and East Europe—still need many products," including machinery, power systems, and rail equipment, said Assistant Commerce Minister Zhang Xiangchen at a press conference in Beijing on Oct. 22. "China's ODI [overseas direct investment], therefore, is essential for them to gain funds, technologies, human resources, and development experience," said Zhang, according to the China Daily.
Before it's here, it's on the Bloomberg Terminal.
LEARN MORE