Why Obama Can't Lead on Ferguson
The president has learned that the White House can sometimes be a treacherous perch from which to agitate for change.
By and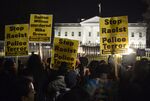 In March 2008, candidate Barack Obama gave a raw, lengthy speech about his own experience as a black man in America. It was a political risk made necessary by a controversy over racially divisive statements by Obama's former pastor, Jeremiah Wright, and by a protracted battle against Hillary Clinton for the Democratic Party nomination. The gamble was vindicated by his history-making election, fueling a hope and belief that he emphasized in his victory speech: "Change has come to America."
Fast forward six years to Monday night, and the split-screen images beamed onto television screens across America: On the one side, tear gas and anger on the streets of Ferguson, Mo. On the other, a politically diminished, second-term president tempered by experience, talking about police officers' "tough job" and hedging on whether he would go the St. Louis suburb himself. He implored blacks not to riot, even as acknowledged their frustration that the white police officer who fatally shot Michael Brown would not be indicted.
"We are a nation built on the rule of law," Obama said. "We need to accept that this decision was the grand jury's to make." 
It's an easy and mostly fair observation to say that Obama's message on race has diminished since 2008, as the president has learned that the White House can sometimes be a treacherous perch from which to agitate for change. That's particularly so when it comes to the sensitive issues of race. In the defining race speech in Philadelphia, he laid bare his beloved white grandmother's fear of black men, his own relative position of privilege, how his wife "carries within her the blood of slaves and slaveowners," and how critics "have deemed me either 'too black' or 'not black enough.'" In that speech he vowed to make change, healing, and unity among his priorities if elected.
Back then, even Obama's campaign soundtrack appealed to the notion of a biracial utopia, mixing Motown hits with U2, Springsteen, and hot country. He chose the Civil War battlefield of Manassas, Va., for his closing campaign rally, a reminder of how the nation once was divided against itself and still had not completely come together.
Once elected, though, Obama assumed a job that required broader focus. Instead of appealing to a narrower constituency, he had to try to speak to all 315 million Americans. He took his lumps for it; members of the Congressional Black Caucus accused him of ceding too much to Republicans and not doing enough to help their supporters, who were hit disproportionately by housing foreclosures and unemployment. Members also complained about a lack of diversity in federal judicial picks. "Stop complaining, stop grumbling, stop crying," Obama told the group in September 2011 as he was preparing his re-election campaign. "We are going to press on."
In the hours following the Ferguson announcement, that gulf again was on display as Obama tried to soothe and calm the nation while lawmakers channeled their constituents' fury. Representative Marcia Fudge, the chairwoman of the black caucus, described the grand jury decision as a miscarriage of justice and "slap in the face." 
"This decision seems to underscore an unwritten rule that black lives hold no value," said Fudge, an Ohio Democrat. "This is a frightening narrative for every parent and guardian of black and brown children, and another setback for race relations in America."
Obama was measured, calm, seemingly detached. As he has throughout his presidency, he tried beat back a sense of futility about racial tensions. "We need to recognize that this is not just an issue for Ferguson, this is an issue for America," Obama said. "We have made enormous progress in race relations over the course of the past several decades. I've witnessed that in my own life. And to deny that progress, I think, is to deny America's capacity for change."    
The understated tone wasn't lost on Mark Anthony Neal, director of the Duke University Center for Arts, Digital Culture and Entrepreneurship, who deemed the president's remarks so disappointing that he thought they could have been uttered by Republican Presidents George W. Bush or George H.W. Bush.
"I didn't vote for him on two occasions for him to give speeches like he gave last night," Neal said. The president further demonstrated his distance from the issue through "the fact that he himself never addresses how absurd this violence against black youth is," Neal said. "I find it amazing, given who the president is and the access to the best black minds in the country, that so many of his responses to this are so lame." 
News events have frequently forced Obama to address race, despite his expressed desire to be seen as the president, rather than the first black one. He's sought to address concerns about racial bias in law enforcement and society through policy reviews, examinations of criminal justice sentencing disparities, and mentoring initiatives for youths. He also has made statements that he has been forced to dial back later. 
Asked early in his presidency about Harvard professor Henry Louis Gates' run-in with the law as he tried to get into his own home, Obama ignited a controversy when he said police had  acted "stupidly." His call for a "teachable moment" ended with an awkward "beer summit" at the White House with Gates and the responding officer, Sgt. James Crowley.
Following the Trayvon Martin incident in 2012,  in which a black teenager was  fatally shot by a man on neighborhood watch in Florida, Obama memorably said that that the victim could have been his son, or even him as a young man. He spoke of a near universal experience black men have of people crossing the street to avoid them, or locking car doors, or clutching purses in elevators. 
Last year, Obama's visit to Africa for a foreign policy and trade trip and later for the funeral of Nelson Mandela—his political inspiration—gave the president to highlight the issue of race relations  without dividing Americans. "Our work is not done," Obama said at Mandela's funeral. Invoking Mandela's clan name, he added: "There are too many of us who happily embrace Madiba's legacy of racial reconciliation, but passionately resist even modest reforms that would challenge chronic poverty and growing inequality." 
Yet the response to Brown's shooting in August proved more complicated. Obama's methodical approach, criticized as too slow and too little by many activists, was aimed at maintaining law and order, not inspiring a change of hearts and minds.
Tef Poe, a 27-year-old hip-hop musician from St. Louis who said he twice voted for Obama and had registered neighbors to vote, recalled in an interview the profound disappointment he felt one night in August amid the Ferguson demonstrations. "I just looked up at the sky," he said, "and thought, 'I'm probably not going to vote for another American president.' I really did feel like, 'What's the point?' I mean, this is a black president. I'm getting tear-gassed under a black president. I asked people to vote and this is what happened?"  
At a speech in Chicago Tuesday, Obama touched on the violence that had transpired the night before and sought to find the right balance between putting the events in context, while not condoning them. 
"The frustrations that we've seen are not about a particular incident. They have deep roots in many communities of color who have a sense that our laws are not always being enforced uniformly or fairly," Obama said.
"There are productive ways of responding and expressing those frustrations, and there are destructive ways of responding," he said. "Burning buildings, torching cars, destroying property, putting people at risk. That's destructive and there's no excuse for it. Those are criminal acts and people should be prosecuted if they engage in criminal acts."
Alison Elkin contributed reporting.
MORE FROM BLOOMBERG POLITICS