Why Obama Can't Lead on Ferguson
The president has learned that the White House can sometimes be a treacherous perch from which to agitate for change.
By and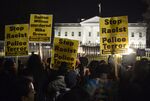 In March 2008, candidate Barack Obama gave a raw, lengthy speech about his own experience as a black man in America. It was a political risk made necessary by a controversy over racially divisive statements by Obama's former pastor, Jeremiah Wright, and by a protracted battle against Hillary Clinton for the Democratic Party nomination. The gamble was vindicated by his history-making election, fueling a hope and belief that he emphasized in his victory speech: "Change has come to America."