South Africa's Wiese Turns Master Chef of $5.7 Billion Deal
Chris Spillane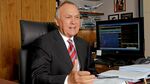 Christo Wiese had been speaking to his friend Markus Jooste about combining their retailers for years. Three days ago, he was confident enough to celebrate the $5.7 billion deal by lighting his barbecue.
"I thought in terms of building a really world class discount retailer, the two businesses would make an excellent fit," Wiese, 73, said by phone from Cape Town yesterday. "I was having a braai at home" when the deal was completed, he said, using the Afrikaans word for a cook-off.
The billionaire owner of South African clothes retailer Pepkor Holdings Pty Ltd. agreed to sell to Steinhoff International Holdings Ltd. in the country's biggest takeover for more than a decade. The combined company will have more than 6,000 stores across three continents and plans to become one of the top five discount retailers in the world.
Wiese, South Africa's fourth-richest man with a fortune of about $5.6 billion, hammered out the deal with Steinhoff CEO Jooste, a friend and business partner for 20 years. He will remain a Steinhoff shareholder with a stake worth about 34.7 billion rand ($3.17 billion), the company said.
Pepkor will assist Steinhoff in its goal to tap further into discount retailing in South Africa as more shoppers seek value amid high inflation and a 25 percent unemployment rate. South African retailers have struggled this year as the economy is set to grow at its slowest pace in five years.
Going Places
Steinhoff is "the sort of company that can really go places, they've carved a niche for themselves in the world where they play," Wiese said. "They are the second-largest furniture retailer in Europe, that's quite an achievement for a business from South Africa."
Wiese was born in South Africa's Northern Cape province in 1941 and started working as an executive director at Pep Stores, then a small clothing chain that would grow to become Pepkor, in the 1960s. After a brief interlude in diamond mining, he returned as chairman in 1980 and took the company public six years later.
By then Pepkor had bought grocer Shoprite Holdings Ltd., which was later spun off and is now Africa's biggest retailer by market value. Wiese had equity in both companies and now owns a stake in Shoprite valued at about $1.3 billion, according to the Bloomberg Billionaires' Index.
'Remarkably Successful'
"He's been a remarkably successful businessman and built a retailer that contends with the big players," Wayne McCurrie, a Johannesburg-based money manager at Momentum Asset Management, said by phone. "He keeps a low profile considering his wealth and investment in South African businesses."
The owner of a game reserve in the Kalahari desert and 4,000-acre (1,618 hectare) wine estate outside Cape Town, his stake in Pepkor is valued at $2.5 billion, according to data compiled by Bloomberg. His net worth increased by 12 percent yesterday, or $610 million, and includes a $290 million stake in Steinhoff.
"I will be playing a more active role in the whole Steinhoff setup," said Wiese, who graduated from the University of Stellenbosch with a law degree in 1967. "There's no sadness because I haven't really sold my business. It's just another chapter."
Before it's here, it's on the Bloomberg Terminal.
LEARN MORE