Sarkozy Comeback as Party Head No Guarantee for Presidential Bid
Gregory Viscusi and Mark Deen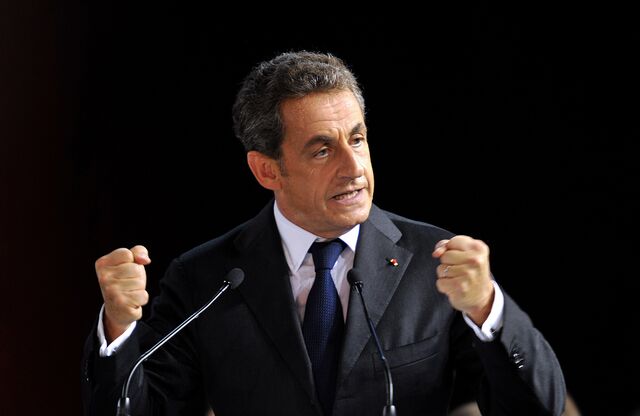 Nicolas Sarkozy will easily win his party's backing to return as its leader at a ballot this weekend. Getting French voters to support his eventual goal of regaining the presidency looks a lot harder.
Polls show Sarkozy, 59, who two months ago announced his return to politics, is almost certain to win the Nov. 29 election to become secretary general of his Union for a Popular Movement. The surveys also show the former president's popularity is sliding among the wider electorate.
The UMP head post that he first held in 2004 would make him chief of the opposition to President Francois Hollande without necessarily confirming him as the party's 2017 presidential candidate. Sarkozy's return to the political stage coincides with Hollande's record-low approval rating.
"Such is the depth of unpopularity plumbed by President Hollande that it's easy to forget just how unpopular Sarkozy was when he left office," said Jim Shields, professor of French politics and history at Aston University in Birmingham, England. "Memories of the Sarkozy presidential style, to which so much of French public opinion became allergic, are still fresh."
Sarkozy was elected France's head of state in 2007. He lost to Hollande in 2012, becoming the first president in 30 years to lose re-election. He has since been supplanted by the Socialist Hollande as the least popular president since polling began.
Hollande said Nov. 6 he won't run again unless the jobless rate declines in the remaining 2 1/2 years of his term. Jobless claims are at a record 3.4 million and the French economy has barely expanded since the Socialist administration came to power in May 2012.
Declining Popularity
A CSA poll showed 35 percent of the French had a positive image of Sarkozy in November and 63 percent a negative one. That's worse than in September, taken just before Sarkozy's Sept. 19 announcement that he was returning from a self-imposed exile from politics, when 39 percent had a positive view and 56 percent negative. CSA interviews 1,000 people each month with a 3 percent margin of error.
Polls routinely show that Alain Juppe, the mayor of Bordeaux and former prime minister, is the most popular UMP politician among the French. The UMP has pledged to hold a primary in 2016 to select its candidate for the 2017 presidential elections, and the 69-year-old Juppe plans to run.
"People are never indifferent about Sarkozy: they are either very positive or very negative," Yves-Marie Cann, research director at CSA, said in an interview. "Worryingly for Sarkozy, Juppe has emerged as an alternative. He has as good an image within the UMP and a much better image among the French as a whole. He's seen as more reassuring, less divisive."
No Suspense
Juppe had a 54 percent positive rating in CSA's November poll, up from 51 percent in September, in both cases making him the most popular politician in France.
Juppe is not running to lead the UMP. Sarkozy's rivals for the party presidency are Bruno Le Maire, who was agriculture minister under Sarkozy, and Herve Mariton, a UMP member of parliament. An Oxada poll Oct. 21 said Sarkozy will win the primary with 73 percent, with 26 percent for Le Maire and 1 for Mariton. The poll questioned 1,003 UMP members who plan to vote.
"There's no suspense about who the winner is," Cann said. "The only question is how much he wins by and what that says about his support among the rank and file."
Close to 80 percent would allow Sarkozy to impose his loyalists on the party, while a score closer to 60 percent would signify serious divisions within the party, Cann said.
Tasks Ahead
Sarkozy then would have three electoral events to manage: local elections in March 2015, the UMP's primary in 2016, and national presidential elections in 2017.
Sarkozy hasn't claimed outright he's seeking a return to the Elysee presidential palace, saying his first task is to rebuild the UMP, which was shattered by a bruising succession battle after Sarkozy said the night of his 2012 loss to Hollande that he was leaving politics. He has even talked of disbanding the UMP to create a broader center-right party.
"For those who want me to unveil my plans for the presidential election in 2017, I say each thing in its time," Sarkozy said at a Nov. 7 rally in Paris. "For our political family, one history is ending, another one starts."
Bruno Cautres, a political analyst at Cevipof, a Paris-based research center, said it's too early to judge Sarkozy's return a failure.
'Dirty Work'
"He hasn't really slowed Juppe's momentum," Cautres said. "Sarkozy's whole strategy is to take the UMP and then be unbeatable. He'll be able to take credit for turning things around, by being able to say he did the dirty work that no one else wanted to do."
While saying his goal now is only to save UMP, Sarkozy has used rallies across the country to openly attack Hollande's record, saying the country has never been in worse shape. Much of his speech echoes his stump speech from 2012, with its emphasis on law and order and national identity.
His supporters are happy he's still much the same. "There's an emptiness in France, and he fills us with hope," Daniel de Lichana, 65-year-old urban planner said at the Paris rally. "It doesn't matter that he hasn't changed."
Before it's here, it's on the Bloomberg Terminal.
LEARN MORE