Santander Names Alvarez CEO in Botin's First Board Revamp
Macarena Munoz and Ben Sills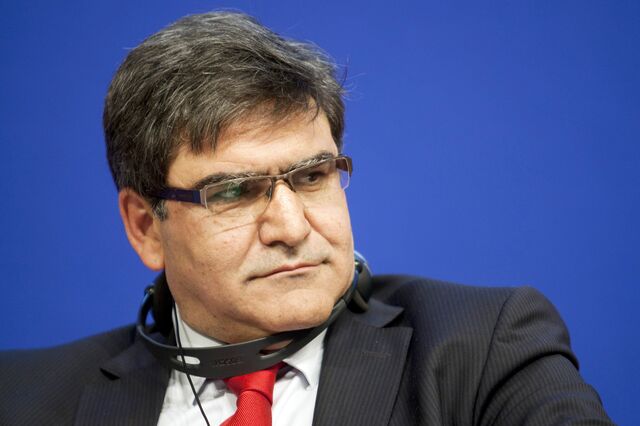 Banco Santander SA Chairman Ana Botin ousted the chief executive officer of Spain's biggest bank and replaced two directors, asserting her leadership two months after taking over from her late father.
Santander promoted Jose Antonio Alvarez to CEO, replacing Javier Marin, who is leaving the company. Jose Garcia Cantera will replace Alvarez, 54, as chief financial officer and the appointments will take effect Jan. 1, the bank said.
When she took over from her father Emilio in September, Ana Botin, 54, previously head of Santander's British operation, signaled that the bank faces a growing challenge from tougher competition and stricter regulation. The lender is strengthening a reach that already stretches from the U.S. to Poland and Brazil as the Spanish economy recovers and regulators demand more capital.
"The new CEO is characterized by his vision of global markets," said Alvaro Cuervo, director of the University College of Financial Studies in Madrid, who served alongside Alvarez on the board of Bolsas y Mercados Espanoles. "Perhaps the focus on Spain loses emphasis. And perhaps it will mean an increase in emphasis on investment banking."
This appointment shows Botin is seeking to establish her role as an executive chairman, leaving to Alvarez the task of dealing with markets and regulators and giving her more leeway to steer strategy and expand the bank, said a person with knowledge of the situation.
'Own Stamp'
Shares rose as much as 1 percent today in Madrid to 7.16 euros, increasing the year's gain to 10 percent.
Alvarez joined Banco Santander in 2002, after working for companies related to Banco Bilbao Vizcaya Argentaria SA since 1995, and was appointed CFO in 2004. Born in Spain's northwestern province of Leon, he has an economics degree from Santiago de Compostela University and earned an MBA from Chicago University.
"Ana Botin is obviously looking to put her own stamp on the bank," said Daragh Quinn, an analyst at Nomura International in Madrid. "Alvarez is very well known to the markets, he has a strong knowledge of the bank. He is well suited for the role."
Marin was appointed CEO in April 2013 after his predecessor, Alfredo Saenz, resigned. He had run Santander's Spanish private-banking unit Banif before being named to head the global private-banking business. He later added asset management to his responsibilities in 2009 and insurance in 2010.
Board Revamp
Marin's dedication as a personal assistant to Emilio Botin and their shared passion for golf had helped seal their close relationship, former colleagues said when Marin was appointed CEO. Emilio Botin had built an 18-hole course at the bank's headquarters outside Madrid.
Under Marin's tenure, Santander's shares have risen about 30 percent as growth in other nations offset pressures from Spain's recession in 2013.
In the third quarter, profit rose 52 percent to 1.61 billion euros ($2 billion), as bad loans dropped for a third straight quarter. Global wholesale banking generated 22 percent of the lender's profit in the first nine months of year, while income from Spain represented 14 percent.
The bank today named Jacques Ripoll as head of global banking and markets, replacing Garcia Cantera. Ripoll runs the investment banking unit at Santander UK.
Banco Santander also appointed Bruce Carnegie-Brown, Sol Daurella and Carlos Fernandez to the board. Rodrigo Echenique, a non-executive board member, was appointed vice chairman. Fernando de Asua and Abel Matutes have resigned from the board.
With the new appointments, Banco Santander's board becomes a younger group, with the average age of its members now at just under 61, down from 65 years. The additional member brings the total to 15.
"The main impression so far is that she is rejuvenating the leadership and bringing in women, both of which are very welcome," said Eduardo Serra, former chairman of UBS AG in Spain.
Greater Transparency
For Citigroup Inc. analysts Stefan Nedialkov and Francesco Di Giambattista, Alvarez's appointment is likely to bring "continuity, predictability and potentially more transparency on issues such as capital and strategic priorities," they wrote in a note to clients.
Santander needs to address how it allocates capital across subsidiaries and review its dividend policy with a view to paying in cash, the analysts wrote.
Santander was among lenders that passed the European Central Bank review of bank's balance sheets. The firm posted a core equity Tier 1 ratio of 10.34 percent under ECB's asset quality review and 8.95 percent in the adverse scenario of the stress test, above the 8 percent and 5.5 percent pass thresholds.
Before it's here, it's on the Bloomberg Terminal.
LEARN MORE