Falcone Steps Down From Harbinger Group to Focus on HC2
Saijel Kishan, Zachary Tracer and Stephanie Ruhle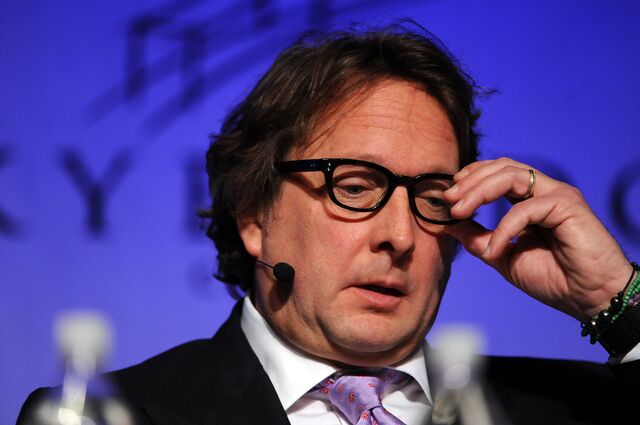 Philip Falcone is stepping down as chairman and chief executive officer of Harbinger Group Inc., the public holding company in which his hedge fund owns a stake, as Harbinger's biggest shareholder exerts more control.
Leucadia National Corp., already the biggest single owner of Harbinger Group, bought an additional 5 million shares, bringing Leucadia's stake to about 22 percent, according to a person with knowledge of the matter, who asked not to be identified because the purchase hasn't been publicly disclosed.
Falcone said he plans to focus on his role as chairman of HC2 Holdings Inc., which owns stakes in a range of companies, much like Harbinger Group. The 52-year-old said three years ago that he planned to move away from hedge-fund investing, where clients can pull out their money at regular intervals, and instead use public holding companies to finance longer-term investments. Some shareholders in Harbinger Group, including Leucadia, believed that the value of the company's underlying assets wasn't fully reflected in its share price and that replacing Falcone may lift the stock, according to a person familiar with the company.
Based on its holdings, Harbinger Group stockholders concluded, the shares should be about $15 each, yet the price barely budged above $13. Harbinger Group rose 3.6 percent to $13.36 yesterday in New York, bringing gains this year to 13 percent.
HC2 Rallies
HC2, in which Harbinger Group took a stake in January, rose 7.5 percent to $8.05. The stock has almost tripled this year.
"I am excited about the progress HC2 has made over the last several months and look forward to dedicating more time to HC2 going forward," Falcone said in a statement.
Harbinger Group is a onetime oil driller that Falcone's hedge funds took over in 2009 and invests in companies from life insurance to pet supplies. HC2, based in Herndon, Virginia, owns a steel company, an underseas cable firm and a biotechnology firm.
"The strategy is basically to find proprietary deals that Falcone and his team can buy on attractive terms and then move them into this public market vehicle," said Bradd Kern, a portfolio manager at Armored Wolf LLC, which oversees about $650 million including HC2 shares.
Falcone's Bonus
Under the terms of Falcone's resignation from the top role at Harbinger Group, he will receive $40.3 million, including a $20.5 million one-time payment and bonuses for this and next year, Harbinger Group said.
Joseph S. Steinberg, chairman of Leucadia, was named chairman of Harbinger Group, which is searching for a new CEO.
Falcone, who became a billionaire after betting against the U.S. housing market, was last year barred from the securities industry for at least five years to settle allegations by U.S. regulators that he had improperly borrowed money from his fund to pay his personal taxes and gave preferential treatment to some investors. Harbinger Capital was once one of the biggest hedge fund firms.
As part of his 2013 settlement with regulators, Falcone had to liquidate his hedge funds under the supervision of an independent monitor. He and his firm, which had managed a peak of $26 billion in 2008, paid a $18 million fine. Falcone was allowed to continue running Harbinger Group.
LightSquared Investment
Falcone had invested money of his hedge-fund investors in LightSquared Inc., a wireless technology company that's been in bankruptcy for more than two years. The company had filed for bankruptcy after the Federal Communications Commission blocked LightSquared's service, saying it might interfere with global positioning system navigation equipment.
Leucadia, which also owns investment bank Jefferies Group LLC, in March more than doubled its stake in Harbinger Group stock to about 20 percent, buying shares from Falcone's Harbinger Capital at $11 apiece. In 2013, New York-based Leucadia took a stake in Harbinger Group by paying $8.50 a share. Steinberg joined Harbinger Group's board as Leucadia boosted its stake. Andrew Whittaker, the vice chairman of Leucadia, also got a board seat as part of the deal.
Before it's here, it's on the Bloomberg Terminal.
LEARN MORE