Obama Urges Peaceful Protest, Restraint by Police in Ferguson
Angela Greiling Keane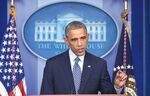 President Barack Obama said the nation must accept the decision of a Missouri grand jury not to indict a white police officer in the shooting death of an unarmed black teenager and asked protesters to heed the call of the teen's parents to refrain from violence.
Obama last night urged protesters to express their anger in nonviolent ways and law enforcement officers to exercise "care and restraint" in dealing with demonstrations.
Even as Obama spoke, sporadic violence broke out in the St. Louis suburb of Ferguson between protesters and police after the grand jury declined to indict Officer Darren Wilson, 28, for the killing of 18-year-old Michael Brown during a street confrontation on Aug. 9. Rioting followed in the days after the shooting.
"We need to recognize that the situation in Ferguson speaks to the broader challenges we still face as a country," Obama said at the White House minutes after the grand jury's decision was announced. "This is not just an issue for Ferguson. This is an issue for America."
The shooting brought the country's racial tensions to the forefront. Obama, the nation's first black president, sought to temper reactions to the grand jury's decision, expressing both support for police and understanding of the anger in minority communities where he said distrust of law enforcement sometimes still runs deep.
Lifting Distrust
That distrust can be eased by better training of officers and community outreach, he said, urging protesters to strive for that outcome rather than react with violence.
"We do have work to do here, and we shouldn't try to paper over it," Obama said. Solving those issues "won't be done by throwing bottles. That won't be done by smashing car windows."
Obama didn't rule out going to Ferguson.
"Let's take a look and see how things are going," he said in response to a question about whether he'll travel there.
Representative John Lewis, a Georgia Democrat and civil rights activist who marched with Martin Luther King Jr, urged people not to engage in violence.
"I know this is difficult," Lewis said on Twitter. "Do not succumb to the temptations of violence. There is a more powerful way."
The leader of the Congressional Black Caucus condemned the grand jury's decision.
'Miscarriage of Justice'
Representative Marcia Fudge, an Ohio Democrat, called it "a miscarriage of justice" and "a slap in the face to Americans nationwide who continue to hope and believe that justice will prevail."
In the aftermath of rioting in August, Obama sent U.S. Attorney General Eric Holder to meet with St. Louis-area community leaders, Federal Bureau of Investigation agents and Brown's parents to try to calm the situation.
Holder said tonight that the U.S. Justice Department's investigation of the shooting, based on federal civil rights laws, continues.
"Though we have shared information with local prosecutors during the course of our investigation, the federal inquiry has been independent of the local one from the start, and remains so," Holder said. While there's "a high legal bar" in such cases, the outcome shouldn't be prejudged, he said.
The Justice Department is also looking into the Ferguson police department, its training and operating procedures.
New Guidelines
Earlier this month, Holder announced new guidance from the Justice Department to law enforcement agencies on maintaining order during protests and demonstrations. He stressed the importance of communication between authorities and communities to reduce tensions before they get out of hand. The attorney general said allowing peaceful protesters to air their views was important.
Protests took place in several cities, including the nation's capital.
A growing crowd of hundreds of people gathered outside the White House fence carrying signs and chanting, "Don't shoot. Hands up," and "Michael Brown, Emmett Till, how many black dudes will you kill?"
People continued to file onto Pennsylvania Avenue at the north side of the executive mansion.
Some of the demonstrators started about 15 blocks away at the Civil War Memorial just after the decision was announced, carrying placards and chanting.
Several participants said they weren't surprised by the verdict, yet it was still disturbing and disheartening.
"It's just such a tragic case," said Washington resident Kristina Mascarenas.
Before it's here, it's on the Bloomberg Terminal.
LEARN MORE