Obama Says Anger Over Discrimination No Excuse for Violence
Roger Runningen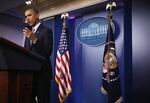 President Barack Obama said the anger and frustration of minority communities in dealing with law enforcement are no excuse for the violence and destruction of property that erupted in Ferguson, Missouri, last night.
Obama said burning cars and buildings won't result in fairer enforcement of laws or diminish discrimination. He said the anger over a grand jury's decision not to bring an indictment in the shooting of an unarmed black teenager by a white police officer should be directed into political action to change the system.
"The frustrations that we've seen are not just about a particular incident," Obama said in Chicago, where he was giving a speech about immigration. "They have deep roots."
Demonstrations and looting erupted in the St. Louis suburb where Brown was killed after the grand jury's decision was announced last night.
Obama, the nation's first black president, said that many in minority communities feel they aren't treated fairly "and it's not just made up."
He promised to work with "those people who are constructively moving forward" to make changes.
Before it's here, it's on the Bloomberg Terminal.
LEARN MORE